by on Aug 31, 2017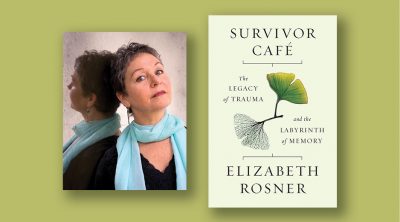 What inspired you to write this book?
A trip to Germany with my father in April 2015 served as the catalyst for this book, but in a multitude of ways, the material contained in these pages is the culmination of a lifelong project. As a daughter of two Holocaust survivors, I have already written for many years about my experiences of inherited grief, loss, and trauma. However, during that particular trip (which was the third time I visited the site of the Buchenwald concentration camp with my father—a camp in which he was a prisoner at the age of fifteen), I began to focus more intently on the historic threshold we are all currently approaching. How will the legacies of Holocaust survivors, liberators, victims, witnesses, and perpetrators be remembered when they are no longer among us in person? This questioning led me to investigate other genocides and atrocities of the 20th century (and earlier), as well as to engage in research on the emerging evidence for the complexities of inter-generational aftermath of war. I found it was urgently important to blend my personal narrative with interviews and broad-based studies that reflect a widely shared accounting of past, present, and future. How can each of us help move in the direction of healing—individually as well as collectively?
What are you reading right now? 
I've just finished reading a novel called Forest Dark by Nicole Krauss. We are going to be in conversation at Keplers in a few weeks, and I've been an admirer of all of her books for quite a while. Our themes and concerns have many parallels. I'm also starting to re-read a dystopian novel called Memoirs of a Survivor by Doris Lessing. It had a stunning effect on my imagination when I read it several years ago, and I'm curious to see how it impacts me now, especially since I'm paying so much attention to the word "survivor"—how and where the term and its meaning is continually explored.
What's the one book that you recommend to people, over and over? 
I recommend different books to different people, depending on what they seem to be wanting to experience or to learn, but I am most likely to urge anyone and everyone to read To the Lighthouse by Virginia Woolf, because it's a perfect masterpiece. I have come to feel somewhat similarly about The Sea by John Banville (and both are quite short, as it happens). A bigger commitment of time and attention is required for this one, but The Lost: A Search for Six of Six Million, by Daniel Mendelsohn, is a tremendously moving and elegantly crafted work. It's as much about storytelling and memory and creativity as it is about family history and the Holocaust.
Who are some of your writer mentors? Do you find that's changed over time as you evolve as a writer or do they remain the same? 
My earliest writing mentors were my professors at Stanford and at U.C. Irvine, but all of that was a very long time ago! My evolution as a writer definitely includes the discovery of inspiration from new writers all the time. And sometimes my mentors show up as ghosts — in the sense that writers no longer living can feel like the ones who teach me and guide me the most, for example Virginia Woolf (see above) and James Joyce and Rainer Maria Rilke.
What is your most prized book possession? A first edition? A gift? Please describe. 
I confess that I have an ever-growing collection of signed books, more than I have shelf space to accommodate. But one inscription that feels the most meaningful is on a page inside David Grossman's exquisite novel See Under: Love, where he wrote this: "Listening to you read your poems made me feel that we are brother and sister."