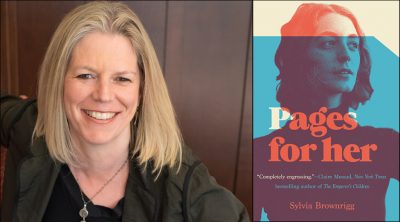 What inspired you to write the new novel?
Pages for Her is a sequel to a novel that was published in 2001, Pages for You. Those characters were very vivid to me as I wrote that novel, and have seemed alive to many readers over the years: the story poured out of me at a transitional time in my own life, and I think that helps explain its intensity.
When I wrote that book, I did not imagine writing a sequel, but readers have often wondered what happened later to Flannery and Anne, and the more I was asked that question the more I began to wonder, myself. After a while I knew that eventually I would have to write about Flannery and Anne again to find out where they went, and what they continued to mean to each other even from a distance. Writing Pages for Her was the way to find out.

What are you reading right now? 
I just finished Rachel Cusk's brilliant novel Outline. Her prose is so cool and clear, and she has such insights about marriage and divorce, motherhood, writing—life. It's all there. I'm going to find the book that followed it, Transit, and read that soon.
In the interim, though, I am reading C E Morgan's first novel, All the Living. I recently read The Sport of Kings and was astonished by it: Morgan is a writer to watch closely, as she has scope and depth in her work, and a spiritual seriousness too.

What's the one book that you recommend to people, over and over? 
It's interesting how hard I find it to answer this question! I am not much of a proselytizer, by nature: of course there are novels I love and writers who feel like they belong to me personally, but I don't always assume that my taste will be shared by someone else, or that I know what book is right for someone else at a particular time. (That's a funny thing about novels, isn't it? It has to be the right time for them. When I first read Middlemarch, I could not find it, somehow; later, I came back to it when I was ready and discovered the masterpiece everyone had told me it was.)
Having said all that! – there is a title that comes to mind that I love to recommend, and that is Toni Morrison's first novel, The Bluest Eye. It is a stark, beautiful, extraordinary novel. So short and powerful, lined with grief and anger and love. I enjoy recommending it as people often know her later 'bigger' books, Beloved or The Song of Solomon, and I enjoy drawing people's attention back to that remarkable book.

Who are some of your writer mentors? Do you find that's changed over time as you evolve as a writer or do they remain the same? 
In person, I was lucky enough to be taught by John Barth and Stephen Dixon at Johns Hopkins, and they are both writers of intelligence, humor and integrity, so were great guides both to writing and to the writer's life.
In terms of writers whose work I hold close, yes certainly the novelists I treasure have changed. I loved Woolf and always will, though I have not re read her in years. In my twenties I was one of many readers bewitched by Jeanette Winterson, along with other writers who had powerful voices, such as Jamaica Kincaid and Grace Paley. I admired from a bit more of a distance English writers like Ian McEwan and Julian Barnes.
Now, though, I'm returning to some of the great social realists of the last century, Forster for instance, and Wharton: I am interested in reading writers whose characters are complete, and whole. Both of those writers have such empathy, and humor in their understanding of people. Penelope Fitzgerald, too, though she's a different kettle of fish.

What is your most prized book possession? A first edition? A gift? Please describe. 
When I was about fourteen, I had a romantic boyfriend a few years older than I was, in Oxford, who gave me a copy of Richard III, inscribed with a French love poem. I had to study Richard III for my exams. I would be really sad to lose this book, which has miraculously made it through so many moves. I have no idea what happened to that young man, but I'm touched still by his inscription. And it is so great that it is Richard III, that powerful and savage story. It would be awful if it had been Romeo and Juliet!