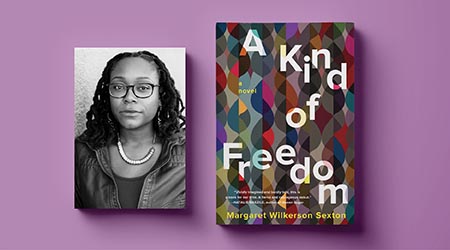 What inspired you to write the novel?
I noticed a trend in African American communities whereby members of my generation seemed to have fewer opportunities available to them than members of my grandparents' generation. That struck me as odd considering there was such blatant racism alive in my grandparents' generation including Jim Crow segregation. I wondered what systemic oppression had taken the place of Jim Crow to block African Americans in a modern setting. And I wanted to explore those systems through fiction so that readers might viscerally experience the heartbreaking impact racism has on people's lives.
What are you reading right now? 
I just read Goodbye, Vitamin by Rachel Khong, which was a subtly heartbreaking but funny take on a woman's transition into adulthood in the face of her father's battle with Alzheimer's.
What's the one book that you recommend to people, over and over?
Probably Purple Hibiscus. People love Americanah and for good reason, but Adichie's first book, Purple Hibiscus, tells the compelling and engrossing story of a young girl coming of age in a violent home in postcolonial Nigeria.
Who are some of your writer mentors? Do you find that's changed over time as you evolve as a writer or do they remain the same? 
Jane Vandenburgh is a mentor who has taught me so much about writing but more importantly about accessing the magic behind the work, the source of the creation. I don't think that will ever change because she has a timeless ability to guide me back to the real reason I'm creating in the first place, and that seems like a gift that will always be relevant.
What is your most prized book possession? A first edition? A gift? Please describe. 
My most prized book possession is probably my signed copy of Leaving Atlanta, in which Tayari Jones reassured me that my book (which I hadn't written yet) would be beautiful.