Books
A Novel
This hilarious, sometimes harrowing, and ultimately heartening novel is the companion to the critically acclaimed, national bestseller Perfect Agreement.
"Beautifully and economically written, and very funny." —Linda Wertheimer, NPR
This is your chance to enroll in English 10 at highly rated Hellman College—if you can find a place to sit in the fantastically overcrowded classroom.
Mark Sternum, whom readers first met in Downing's beloved novel
Perfect Agreement
, is a veteran teacher. Twenty years older, separated for six months from his longtime lover, and desperate to duck the overtures of double–dealing deans above him and disgruntled adjunct faculty below him, Mark has one ambition every day he is on campus—to close the classroom door and leave the world behind. His escape, however, is complicated by his contentious, complicated wrestling match of a relationship with the Professor, the tenured faculty member with whom Mark has co–taught this creative–writing workshop for ten years.
The spectacle of their rigorous, academic relationship is a chance for students—all of us—to learn what an amazing arena the classroom can be. Replete with engaging writing exercises, harsh criticism, and contrarian advice,
Still in Love
is the story of one semester in a college classroom. And it is an urgent reminder that we desperately need classrooms, that those singular, sealed–off–from–the–world sanctuaries are where we learn to love our lives.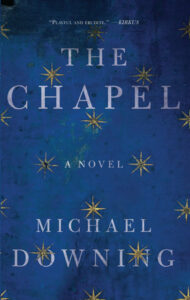 A Novel
Recently widowed, unhappily stuck on a pricey whiplash tour of Italy, Elizabeth Berman comes face to face with the first documented painting of a teardrop in human history, and in the presence of that tearful mother, and the arresting company of the renowned and anonymous women painted by Giotto in the Arena Chapel, she wakes up to the possibility that she is not lost.
Mitchell left me everything, just as he promised. "Everything," he liked to say during his last month on the sofa, "everything will be yours," as if it wasn't yet. I was left with that and two adult children who could not tolerate my sitting in my home by myself—admittedly, rather too often in a capacious pink flannel nightgown and the green cardigan Mitchell was wearing on the afternoon he died.
That's how Elizabeth winds up on a tour better suited to her late–husband, a Dante scholar. Mitchell masterminded the itinerary as a surprise for their thirty–fifth wedding anniversary.
Itching to leave as soon as she arrives in Padua, Elizabeth's efforts to book a ticket home are stymied by her aggressively supportive children, the ministrations of an incomprehensibly Italian hotel staff, and the prospect of forfeiting the sizable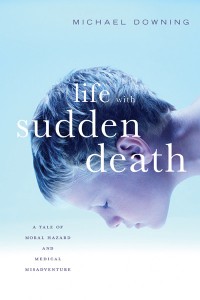 A Tale of Moral Hazard and Medical Misadventure
The youngest of nine children, Michael Downing was three when his father died — suddenly and inexplicably. No autopsy was performed. The family diagnosis was God's will.
As a boy, Downing rigorously trained as a spiritual athlete, preparing to vault into heaven. But eventually he escaped the religious dogma, and the family arena — until one of his brothers died in 2003, suddenly and inexplicably. No autopsy was performed.
Alarmed, Downing pursued a diagnosis: Drawn into a world of researchers, clinicians, and manufacturers with their own arcane ethics and faith, Downing discovered he had inherited a mutant protein from his father, and the first symptom would be his sudden death.
To save his life, a defibrillator was hard–wired to his heart. Within weeks, he needed emergency surgery to remove the device and the life–threatening infection he got with it. Two months later, he was re–implanted — only to read in his morning newspaper that the new wires anchored to his heart were prone to failure. His device might be powerless, or it might deliver a series of unwarranted, possibly fatal, shocks.
From a bedeviled boyhood in the Berkshires to a grim comedy of errors in one of Boston's best hospitals,
Life with Sudden Death
is a wild ride.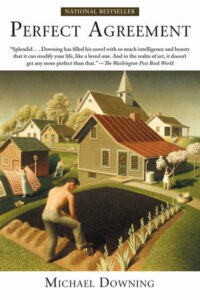 Mark Sternum, a professor who teaches spelling and grammar at Boston's McClintock College, is full of droll observations about the rules that govern our language, but he leads a diligent if somewhat detached life. Friends and family try to coax him into deeper involvement, yet he keeps even his lover at arm's length. He screens all incoming calls, including his eccentric sister's "word pictures" about the waning days of their comatose mother.
One day, an African–American single mother who has failed the college's basic skills test for the last time accuses Mark of "prejudgism," and Mark is fired. Blown off course, he monitors the ensuing academic skirmish from a distance as his case makes national headlines, and turns his attention instead to the graceful rhythms of a small Shaker community. As the scrambled pieces of Mark's life and the simple ways of the Shakers begin to merge, Mark finds new beauty in his own maddening, blissful dependency on the people in his life.
Funny and generous, Downing's seemingly effortless prose juxtaposes cunning portraits of academic functionaries weathering the age of political correctness with the people and values of the last Shaker families in America.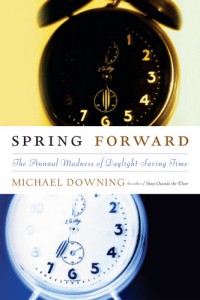 The Annual Madness of Daylight Saving Time
Michael Downing is obsessed with Daylight Saving, the loopy idea that became the most persistent political controversy in American history. Almost one hundred years after Congressmen and lawmakers in every state first debated, ridiculed, and then passionately embraced the possibility of saving an hour of daylight, no one can say for sure why we are required by law to change our clocks twice a year. Who first proposed the scheme? The most authoritative sources agree it was a Pittsburgh industrialist, Woodrow Wilson, a man on a horse in London, a Manhattan socialite, Benjamin Franklin, one of the Caesars, or the anonymous makers of ancient Chinese and Japanese water clocks.
Spring Forward
is a portrait of public policy in the 20th century, a perennially boiling cauldron of unsubstantiated science, profiteering masked as piety, and mysteriously shifting time–zone boundaries. It is a true–to–life social comedy with Congress in the leading role, surrounded by a supporting cast of opportunistic ministers, movie moguls, stockbrokers, labor leaders, sports fanatics, and railroad execs.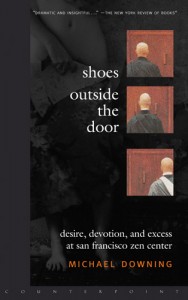 Desire, Devotion, and Excess at San Francisco Zen Center
A close-up look at the scandals that rocked the San Francisco Zen Center, a leader in alternative religious practice and the counterculture in America, and their repercussions.
The remarkable forty-year history of the people who established the first Buddhist monastery outside of Asia in the history of the world has never been told. Michael Downing wondered why. "I'm living proof of why you better not speak out," explained one ordained Zen priest. "The degree to which I was scapegoated publicly was most effective in keeping everyone else quiet."
In 1959, a Soto Zen priest took leave of his family in Japan to minister to the congregation of a Buddhist temple in San Francisco. Alan Watts and others spread the word that an authentic Zen Roshi was living there, and students, poets, drifters, and seekers began to attend his lectures. Impressed by their sincerity and commitment, Suzuki Roshi began to offer instruction in zazen (meditation) and other Buddhist practices to these devoted young spiritual pioneers. The San Francisco Zen Center was born.
And then, in 1983, meltdown. A sex scandal rocked Zen Center, and it triggered tragedies and headlines about abuse of power that called into question the whole matter of alternative religious practice in America. Overnight the most prominent community of Buddhists in the West found itself at the vanguard of a cultural revolt against spiritual authority.
For
Shoes Outside the Door
, Michael Downing spent three years studying documents and interviewing more than eighty people who were there, at ground zero. As engaging as any mystery, as mysterious as any political campaign, as political as any family gathering, this story will haunt and challenge readers as they unravel this essential chapter of American history.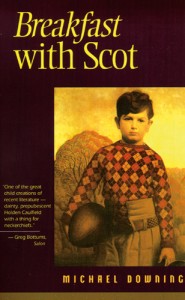 A Novel
Sam and Ed live the high life, and see no reason to add to their happy twosome. Then 11–year–old Scot's mother dies, and a wine–soaked promise pushes the couple into parenthood. They dutifully make all the usual arrangements, but Scot is far from usual, sporting makeup and enduring bullying at school. Soon Sam and Ed begin to question their parenting, their commitment to each other, and the compromises they've made to live in a straight society.
Breakfast with Scot
is a humorous, heartwarming novel about the true meaning of family.