Books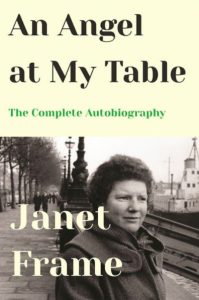 The Complete Autobiography
The autobiography of New Zealand's most significant writer
New Zealand's preeminent writer Janet Frame brings the skill of an extraordinary novelist and poet to these vivid and haunting recollections, gathered here for the first time in a single volume. From a childhood and adolescence spent in a poor but intellectually intense railway family, through life as a student, and years of incarceration in mental hospitals, eventually followed by her entry into the saving world of writers and the "Mirror City" that sustains them, we are given not only a record of the events of a life, but also "the transformation of ordinary facts and ideas into a shining palace of mirrors."
Frame's journey of self–discovery, from New Zealand to London, to Paris and Barcelona, and then home again, is a heartfelt and courageous account of a writer's beginnings as well as one woman's personal struggle to survive.
This book contains selections from the long out–of–print collection entitled
Janet Frame: An Autobiography
(George Brazillier, 1991), which itself was originally published in three volumes:
To the Is–land, An Angel at My Table
, and
The Envoy from Mirror City.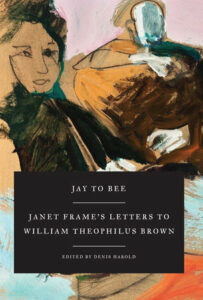 Janet Frame's Letters to William Theophilus Brown
In 1951, just days before her scheduled lobotomy after years in a mental hospital, New Zealand author Janet Frame's first collection of short stories unexpectedly won the Hubert Church Memorial Award, one of the country's most prestigious honors. The procedure was cancelled, and Frame would go on to become one of the seminal authors of contemporary New Zealand literature.
During her time at the MacDowell artist's colony in New Hampshire, Frame met painter William Theophilus Brown, and their friendship resulted in a whimsical and artistic correspondence that lasted until Frame's death in 2004. In Brown, Frame found an ideal listener who inspired her to take the art of letter writing to new creative heights; over the course of their correspondence, Frame included character sketches, personal disclosures, invented tales, and over 300 of her own doodles and collages.
This compilation of letters and original illustrations has been published nowhere else in the world, including Frame's home country of New Zealand. This moving and enlightening correspondence opens up the hopes, fears, joys, and inner machinations of one of New Zealand's most renowned authors, and offers a side of her dramatic personal history often ignored or misunderstood by the public. The closeness and intimacy of the two artists allows for unfettered wordplay, where Janet is merely "Jay", Bill merely "Bee", and granular, unprocessed creativity is allowed to flow freely; the result is a book that vividly captures the brilliantly unique wit that was Janet Frame.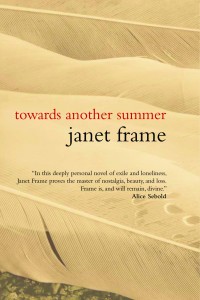 "Self–styled" writer Grace Cleave has writer's block, and her anxiety is only augmented by her chronic aversion to leaving her home, to be "among people, even for five or ten minutes." And so it is with trepidation that she accepts an invitation to spend a weekend away from London in the north of England. Once there, she feels more and more like a migratory bird, as the pull of her native New Zealand makes life away from it seem transitory. Grace longs to find her place in the world, but first she must learn to be comfortable in her own skin, feathers and all.
From the author of the universally acclaimed
An Angel at My Table
comes an exquisitely written novel of exile and return, homesickness and belonging. Written in 1963 when Janet Frame was living in London, this is the first publication of a novel she considered too personal to be published while she was alive.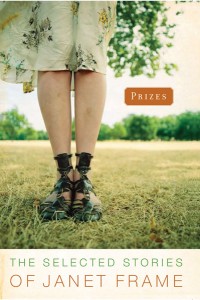 The Selected Stories of Janet Frame
The most comprehensive selection of Janet Frame's stories ever published, this exceptional collection has been chosen from the four different volumes released during her lifetime.
Featuring the best of her stories, the book includes pieces that were written over four decades, including stories from her debut collection,
The Lagoon and Other Stories
. First published in 1951, those stories were written while Frame was confined in a mental hospital. When the collection won the Hubert Church Award, a threatened brain operation (akin to a lobotomy) was averted.
The stories in this new book also include selections from
You Are Now Entering the Human Heart
, published in the 1980s after a hiatus from writing. The last stories she published before her death, her writings from this time reveal Frame's unflinching ability to explore the drama of madness, isolation, and identity.
This new book also includes five short stories that have not been collected before, completing a volume that testifies to the brilliance of Janet Frame's life and literary talent.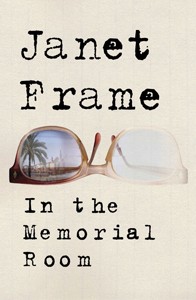 A Novel
Harry Gill, a moderately successful writer of historical fiction, has been awarded the annual Watercress–Armstrong Fellowship—a 'living memorial' to the poet, Margaret Rose Hurndell. He arrives in the small French village of Menton, where Hurndell once lived and worked, to write. But the Memorial Room is not suitable—it has no electricity or water. Hurndell never wrote here, though it is expected of Harry.
Janet Frame's previously unpublished novel draws on her own experiences in Menton, France as a Katherine Mansfield Fellow. It is a wonderful social satire, a send–up of the cult of the dead author, and—in the best tradition of Frame—a fascinating exploration of the complexity and the beauty of language.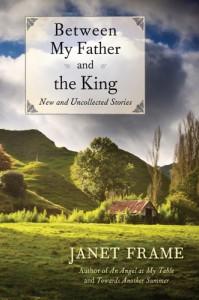 New and Uncollected Stories
This brand new collection of 28 short stories spans the length of Frame's career and contains some of the best she wrote. None of these stories have been published in a collection before, and more than half are published for the first time in
Between My Father and the King
.
The piece 'Gorse is Not People' caused Frame a setback in 1954, when Charles Brasch rejected it for publication in
Landfall
and, along with others for one reason or other, deliberately remained unpublished during her lifetime. Previously published pieces have appeared in
Harper's Bazaar, the NZ Listener,
the
New Zealand School Journal, Landfall
and
The New Yorker
over the years, and one otherwise unpublished piece, 'The Gravy Boat', was read aloud by Frame for a radio broadcast in 1953.
In these stories readers will recognize familiar themes, scenes, characters and locations from Frame's writing and life, and each offers a fresh fictional transformation that will captivate and absorb.