Books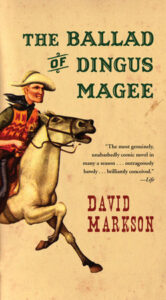 Although best known today for his singular, stunning "anti–novels" dazzlingly conjured from anecdotes, quotes, and small thoughts, in his early days David Markson paid the rent by writing punchy, highly dramatic fictions. On the heels of a new double edition of his steamy noirs
Epitaph for a Tramp
and
Epitaph for a Deadbeat
comes a new edition of his 1965 classic
The Ballad of Dingus Magee,
whose subtitle — "Immortal True Saga of the Most Notorious and Desperate Bad Man of the Olden Days, his Blood–Shedding, his Ruination of Poor Helpless Females, & Cetera" — gives readers a hint of the raucous sensibility at work here. Brimming with blasphemy, bullets, and bordellos, this hilarious tale, which inspired the Frank Sinatra movie
Dirty Dingus McGee,
shows the early Markson at his outrageous best, taking down, as
Playboy
put it, "the breeches of the Old West and blast[ing] what's exposed with buckshot."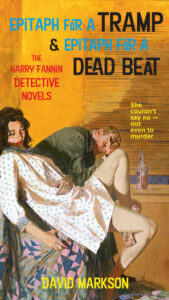 The Harry Fannin Detective Novels
Before achieving critical acclaim as a novelist, David Markson paid the rent by writing several crime novels, including two featuring the private detective Harry Fannin. Together here in one volume, these works are now available to a new generation of readers.
In
Epitaph for a Tramp,
Fannin isn't called out to investigate a murder — it happens on his doorstop. In the sweltering heat of a New York August night, he answers the buzzer at his door to find his promiscuous ex–wife dying from a knife wound. To find her killer, Fannin plies his trade with classic hard–boiled aplomb. In the second novel,
Epitaph for a Dead Beat,
Fannin finds himself knee–deep in murder among the beatniks and bohemians of the early 1960s, where blood seems to flow as readily as cheap Chianti.
Intricately plotted and rife with wisecracks, David Markson offers suspenseful and literary crime novels.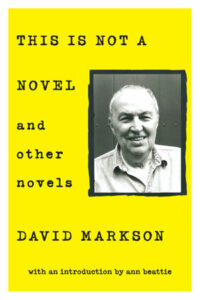 David Markson was a writer like no other. In his novels, which have been called "hypnotic," "stunning," and "exhilarating" and earned him praise from the likes of Kurt Vonnegut and David Foster Wallace, Ann Beattie and Zadie Smith. Markson created his own personal genre. With crackling wit distilled into incantatory streams of thought on art, life, and death, Markson's work has delighted and astonished readers for decades.
Now for the first time, three of Markson's masterpieces are compiled into one page–turning volume:
This Is Not a Novel
,
Vanishing Point
, and
The Last Novel
. In
This Is Not a Novel
, readers meet an author, called only "Writer," who is weary unto death of making up stories, and yet is determined to seduce the reader into turning pages and getting somewhere.
Vanishing Point
introduces us to "Author," who sets out to transform shoeboxes crammed with note cards into a novel. In The Last Novel, we find an elderly author (referred to only as "Novelist") who announces that, since this will be his final effort, he possesses "carte blanche to do anything he damn well pleases."
United by their focus on the trials, calamities, absurdities and even tragedies of the creative life, these novels demonstrate David Markson's extraordinary intellectual richness—leaving readers, time after time, with the most indisputably original of reading experiences.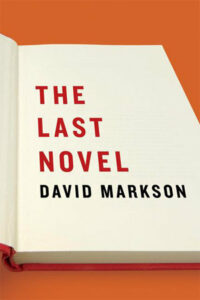 In recent novels, which have been called "hypnotic," "stunning," and "exhilarating," David Markson has created his own personal genre. In this new work,
The Last Novel,
an elderly author (referred to only as "Novelist") announces that since this will be his final effort, he has "carte blanche to do anything he damned well pleases."
Pressed by solitude and age, Novelist's preoccupations inevitably turn to the stories of other artists — their genius, their lack of recognition, and their deaths. Keeping his personal history out of the story as much as possible, Novelist creates an incantatory stream of fascinating triumphs and failures from the lives of famous and not–so–famous painters, writers, musicians, sports figures, and scientists.
As Novelist moves through his last years, a minimalist self–portrait emerges, becoming an intricate masterpiece from David Markson's astonishing imagination. Through these startling, sometimes comic, but often tragic anecdotes we unexpectedly discern the entire shape of a man's life.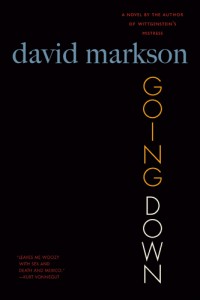 A Novel
Unlike David Markson's most recent works, including
Vanishing Point
and
Wittgenstein's Mistress,
which David Foster Wallace described as "pretty much the high point of experimental fiction in this country," his early novel,
Going Down,
is a more traditional effort, a masterfully plotted narrative set in Mexico in the 1960s. Three Americans, a man and two women, are living together in obvious intimacy. Their habits, strange to the Mexicans, are strangest of all to themselves.
When Fern Winters' attention is caught by movement behind a window in a run–down Greenwich Village apartment building, she can't suspect that her encounter with the apartment's occupant will eventually lead her to be come upon in an abandoned chapel, in a tiny mountain village—clutching the bloody machete with which one of the three has been murdered.
Going Down
is a rarity among novels—brilliantly and poetically written, faultlessly constructed, centered on fully realized people, and yet completely uninhibited in its depiction of startling eroticism.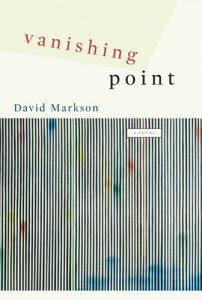 A Novel
From Wittgenstein's
Mistress to Reader's Block
to
Springer's Progress
to
This Is Not a Novel
, he has delighted and amazed readers for decades. And now comes his latest masterwork,
Vanishing Point
, wherein an elderly writer (identified only as "Author") sets out to transform shoeboxes crammed with notecards into a novel—and in so doing will dazzle us with an astonishing parade of revelations about the trials and calamities and absurdities and often even tragedies of the creative life—and all the while trying his best (he says) to keep himself out of the tale. Naturally he will fail to do the latter, frequently managing to stand aside and yet remaining undeniably central throughout—until he is swept inevitably into the narrative's starting and shattering climax. A novel of death and laughter both—and of extraordinary intellectual richness.