Books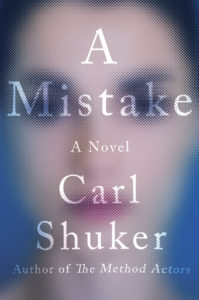 A Novel
In medicine, a single mistake in an otherwise spotless career can determine the rest of your life—even if the mistake was not your own
Elizabeth Taylor is a gifted surgeon—the only female consultant at her hospital. But while operating on a young woman with life–threatening blood poisoning, something goes horribly wrong. In the midst of a new scheme to publicly report surgeons' performance, her colleagues begin to close ranks, and Elizabeth's life is thrown into disarray. Tough and abrasive, Elizabeth has survived and succeeded in this most demanding, palpably sexist field. But can she survive a single mistake?
A Mistake
is a page–turning procedural thriller about powerful women working in challenging spheres. The novel examines how a survivor who has successfully navigated years of a culture of casual sexism and machismo finds herself suddenly in the fight of her life. When a mistake is life–threatening, who should ultimately be held responsible? Carl Shuker has produced some of the finest writing on the physicality of medical intervention, where life–changing surgery is detailed moment by moment in a building emergency.
A Mistake
daringly illustrates the startling mix of the coolly intellectual and deeply personal inherent in the life and work of a surgeon.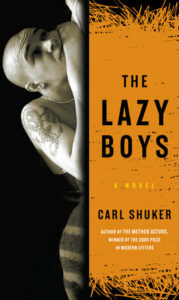 A Novel
Carl Shuker's protagonist, Richard Sauer, heads off to college for no reason other than to escape the stultifying normalcy of his middle–class family in Timaru, New Zealand. He may appear ordinary in his aimlessness, mangling his way through his first year in college, but his bonging and banging, his anger and rage, take a brutal turn at an out–of–control dorm party which lands Richey in front of the disciplinary committee with a sexual harassment charge. Dropping out of school before he's thrown out, Richey and his housemates Matt, Nick, and Ursula begin a freefall that forces Richey to face his most destructive desires.
Sex, violence, mutilation, and drugs fuel the despair and alienation of these disaffected youth — those once innocent but now struggle to find the right combination of alcohol and drugs to keep an all–night buzz. Like a punch in the stomach or a sustained cry, Carl Shuker's risky and harrowing first person narrative is as visceral as
Fight Club
and as brutal as
A Clockwork Orange.
On the surface Richey's actions are unforgivable, but his unformed and distorted world is immediate and recognizable to a generation brought up in a society indifferent to its own nihilism.</p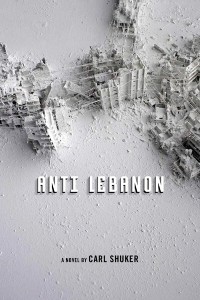 A Novel
It is Arab Spring and the fate of the Christians of the Middle East is uncertain. The many Christians of Lebanon are walking a knife–edge, their very survival in their ancestral refuge in doubt, as the Lebanese government becomes Hezbollah–dominated, while Syria convulses with warring religious factions.
Anti Lebanon
is a cross–genre political thriller and horror story embedded within these recent events, featuring a multiethnic Christian family living out the lingering after–effects of Lebanon's civil war as it struggles to deal with its phantoms, its ghosts, and its vampires.
Leon Elias is a young and impoverished Lebanese man whose older sister had joined a Christian militia and has been killed. He becomes caught up in the recent "little war" in Beirut, when the Shi'a resistance/militia Hezbollah takes over most of the city. In this milieu—the emptied streets of Christian east Beirut, the old shell–scarred sandstone villas, the echoing gunfire—he becomes involved, only partly by choice, in the theft of a seriously valuable piece of artisanal jewelry, and is bitten—like a vampire—by its Armenian maker.
Events take a ghostly and mysterious turn as the factions jostling for power in Beirut begin to align against him and his family, and he is forced to flee the sullied beauty of that wonderful and pitiful country, in this story of love and loss, of the civil war and the
Arabization
of the "Switzerland of the Middle East," and of contemporary vampires—beings addicted to violence, lies, and baser primal drives.
Carl Shuker is a remarkable writer. A storyteller in the tradition of Celine and J. G. Ballard, no one alive writes better sentences.
Anti Lebanon
will delight his fans and entrance anyone new to his fine work.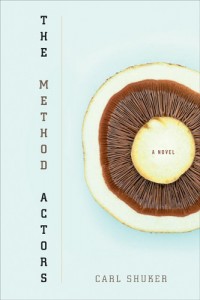 A Novel
The Method Actors
is set in Japan, New York, and New Zealand. When a young military historian named Michael Edwards disappears in Tokyo, his sister Meredith comes to the city to search for him. There she meets up with old friends and acquaintances from all over the world: ex–JET exchange teachers from Canada, ex–drug addicts from Australia, drug dealers from the Netherlands, young American women with Japanese husbands hostessing for money, French kitchenhands, young Japanese mushroom growers, and wealthy young Chinese–Americans living the high life. Meredith begins to encounter increasing evidence that Michael was involved in something deeper and darker than she could have suspected: a secret history going back through Japanese war crimes in China in World War II to the quarantining of Dutch merchants on manmade islands during Japan's period of isolationism in the seventeenth century.