Books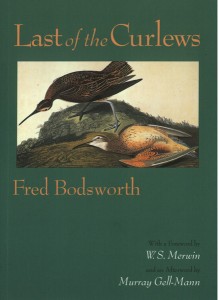 In this conservation classic, originally published more than sixty years ago, Fred Bodsworth tells the story of a solitary Eskimo curlew's perilous migration and search for a mate. The lone survivor comes to stand for the entirety of a species on the brink of extinction, and for all in nature that is endangered.
This new paperback edition includes a foreword by Pulitzer Prize–winning poet W.S. Merwin and an afterword by Nobel Prize–winning physicist Murray Gell–Mann.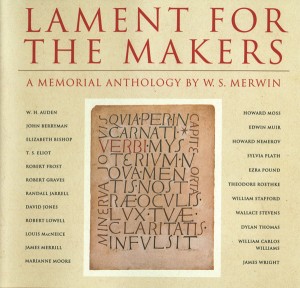 A Memorial Anthology
With
Lament for the Makers
W. S. Merwin honors the lives and work of twenty–three poets of our time. Each of them has been important to him, and all of them died during his life as a poet.
Following the title poem, Merwin presents works by Dylan Thomas, Wallace Stevens, Edwin Muir, Sylvia Plath, William Carlos Williams, Robert Frost, Theodore Roethke, Louis MacNeice, T. S. Eliot, Randall Jarrell, John Berryman, W. H. Auden, Marianne Moore, Ezra Pound, David Jones, Robert Lowell, Elizabeth Bishop, James Wright, Howard Moss, Robert Graves, Howard Nemerov, William Stafford, and James Merrill. Photographs and brief biographies of the poets are also included.
Lament for the Makers
connects the work of one of our most gifted contemporary poets with the modern masters who have defined the twentieth–century poetic tradition.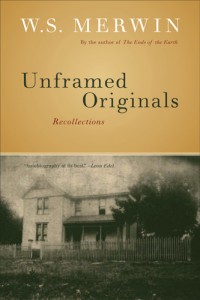 Recollections
In this haunting, elegantly written memoir, W. S. Merwin recalls in utterly unsentimental prose his youth, growing up in a repressed Presbyterian household in the small river towns of New Jersey and Pennsylvania. The complex portrait that emerges of a family without language or history, transforms the story of their isolated lives into the development of a writer's conscience and a warning about the fate of a middle class eager to obliterate origins.
"This book is superbly written, offering deep glimpses into the complexities and mysteries of family bonds, with just that distancing from people and events necessary for artistic control."—Edmund Fuller,
Wall Street Journal
A Memoir
America today is a mobile society. Many of us travel abroad, and few of us live in the towns or cities where we were born. It wasn't always so. "Travel from America to Europe became a commonplace, an ordinary commodity, some time ago, but when I first went such departure was still surrounded with an atmosphere of adventure and improvisation, and my youth and inexperience and my all but complete lack of money heightened that vertiginous sensation," writes W. S. Merwin. Twenty–one, married and graduated from Princeton, the poet embarked on his first visit to Europe in 1948 when life and traditions on the continent were still adjusting to the postwar landscape.
Summer Doorways
captures Merwin at a similarly pivotal time before he won the Yale Younger Poets Award in 1952 for his first book,
A Mask for Janus
—the moment was, as the author writes, "an entire age just before it was gone, like a summer."