Books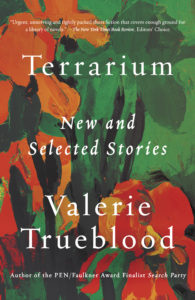 New and Selected Stories
Shortlisted for the Pacific Northwest Book Award

"Urgent, unnerving and tightly packed short fiction that covers enough ground for a library of novels." —The New York Times Book Review, Editors' Choice
Valerie Trueblood's writing has been praised by
The New York Times
as "an exercise in literary restraint and extreme empathy." Selected here are stories from her previous collections—finalists for the PEN/Faulkner Award and the Frank O'Connor International Short Story Award—alongside her newest collection, which lends this book its name.
The new stories collected within
Terrarium
represent an exciting direction for the author: a condensing of narrative and, in some cases, a departure from it into another state of mind.
It's hard to describe any of Trueblood's stories as "typical." She does not write about people from a single class, or caste, or geographical area. She has not written a single story emblematic of her work. She does not write stories fantastical or eccentric. Ordinary life, her stories may be saying, is fantastical enough. She is more like Babel than Chekhov. In all her writing, it's clear that Trueblood believes that the short story can carry both the lightest and heaviest of loads.
Terrarium
highlights the achievement of simply living, the stories within often unresolved but in a state of continuation, expansion. Trueblood's stories aren't merely about their subjects, they're inside them.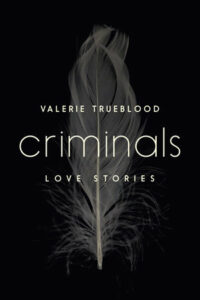 Love Stories
Valerie Trueblood is, simply put, one of the finest story writers who is currently working in the American language, as prize committees acknowledge. In this, her beautifully made third collection, each of the fifteen stories asks two defining questions:
What kind of love story is this?
as well as,
Who here is exactly what kind of criminal?
In "His Rank," an armed man enters a bar to claim the girl he understands to be his destiny only to be told she has, the weekend before, married someone else. In "Skylab," in which lovers have run away together to work medical relief in Malaysia, the young woman is reading the Koran to learn what it says about adulterers even as she waits for satellite debris to rain down on her. She'll be punished, won't she, for the crime of happiness? And in "The Bride of the Black Duck" a new widow falls in love with an entire complicated family in her neighborhood, with whom she's suddenly, irrevocably plighted her troth: she is theirs, just as they are hers.
In
Criminals
the stories are linked by theme, the characters often tender, movingly, but flawed; that is they are
realistic
. Love is hard won. When violence erupts it too is utterly convincing.
With her keen eye, her fabulous ear and her generous heart, Trueblood's aim is to find characters in moments of true extremity when they are united in passion, connected not only to one another but to themselves. And—as with violence and as in real life—love erupts surprisingly, emerging out of the smooth blue surface of the mundane.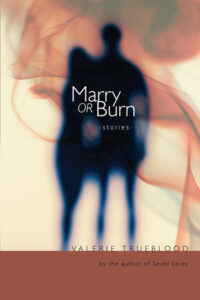 Stories
From the author of
Seven Loves
comes this austere, passionately shaped collection of stories that courageously explores the dynamic nature of modern marriage, the life–shattering heartbreak that often accompanies its collapse, and the fickle way in which the boundaries between us can be broken, erased, and newly defined.
At her daughter's wedding, an alcoholic widow finds a new beginning when she is swept off her feet by the bride's former secret lover. A man finds himself in a position of terrible power when he discovers his ex–wife's boyfriend with another woman. A woman who killed her policeman husband in a rage struggles to reconcile feelings of emotional worthlessness and a longing for human affection after two decades in prison. A widower of twenty–three years introduces his wary daughters to his new love, a woman whom he has decided to marry one week after meeting, and who once took an axe to a bear to save her husband.
Trueblood unites past and present through her characters' complex personalities as she skillfully unravels their tumultuous relationships, giving readers a glimpse into marital circumstances that, though often tragic, will surely ring familiar.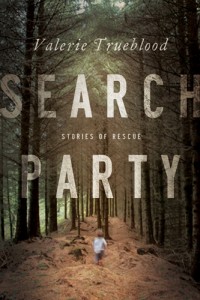 Stories of Rescue
In the epigraph to this volume, Penelope Fitzgerald tells us: "If a story begins with finding, it must end with searching," and so we discover each story here to follow the arc of a search, just as each also contains a rescue. What is immediately apparent is that it will be impossible to guess the form this rescue will take or even who it is who'll require it.
Instead, the astonishingly talented Valerie Trueblood has imbued each story with its own depth and mystery, so rescue comes as a surprise to the reader, who is in intimate sympathy for the soul in extremity. And these are diverse characters whose fates, in lesser hands, might be thought of as hopeless: the fired cop turned security guard, the stolid, 19–year–old nurses' aide who will not be going to art school, the cynical radio producer who is dying of breast cancer and on a plane on her way to Lourdes.
In these thirteen stories linked by a common transcendent human genius, the writing is confident and clear and original, and often drop–dead stunning, as if the stories are being told by the most casually eloquent among us.