Books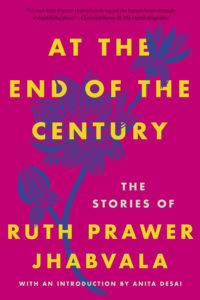 The Stories of Ruth Prawer Jhabvala
A New York Times Book Review Editors' Choice

Multilayered, subtle, insightful short stories from the inimitable Booker Prize–winning author, with an introduction by Anita Desai


Nobody has written so powerfully of the relationship between and within India and the Western middle classes than Ruth Prawer Jhabvala. In this selection of stories, chosen by her surviving family, her ability to tenderly and humorously view the situations faced by three (sometimes interacting) cultures—European, post–Independence Indian, and American—is never more acute.
In "A Course of English Studies," a young woman arrives at Oxford from India and struggles to adapt, not only to the sad, stoic object of her infatuation, but also to a country that seems so resistant to passion and color. In the wrenching "Expiation," the blind, unconditional love of a cloth shop owner for his wastrel younger brother exposes the tragic beauty and foolishness of human compassion and faith. The wry and triumphant "Pagans" brings us middle–aged sisters Brigitte and Frankie in Los Angeles, who discover a youthful sexuality in the company of the languid and handsome young Indian, Shoki. This collection also includes Jhabvala's last story, "The Judge's Will," which appeared in
The New Yorker
in 2013 after her death.
The profound inner experience of both men and women is at the center of Jhabvala's writing: she rivals Jane Austen with her impeccable powers of observation. With an introduction by her friend, the writer Anita Desai,
At the End of the Century
celebrates a writer's astonishing lifetime gift for language, and leaves us with no doubt of Ruth Prawer Jhabvala's unique place in modern literature.
"The stories—all of them elegantly plotted and unsentimental, with an addictive, told–over–tea quality—are largely character studies of people isolated, often tragically, by custom or self–delusion . . . Vivid, unsparing portraits are leavened with the kind of humanizing moments that evoke a total world within their compression."—Megan O'Grady, The New York Times Book Review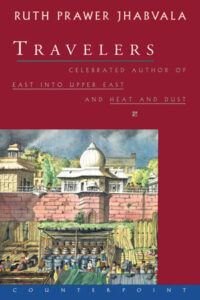 In
Travelers
, Jhabvala examines the unlikely convergence of four wanderers: Asha, an imperious Indian widow, Raymond, a curious Englishman, Lee, an American looking for her spiritual core, and Gopi, an impressionable young student. With a mixture of impassioned dialogue and subtle narrative, Jhabvala examines the psychological and cultural forces that wend their paths into inextricable knots of love and conflict.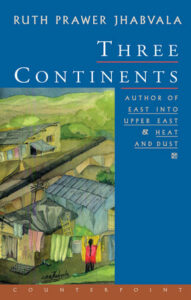 Three Continents
is a tale of the clash between the easternized West and the westernized East. Twins Harriet and Michael–spoiled, quixotic, and extremely wealthy–have eschewed the vapid world of cocktail parties and adulteries that seems to be their inheritance. In constantly searching to complete themselves, they become the perfect fodder for the charismatic Rawul of Dhoka and his sinister Sixth World Movement.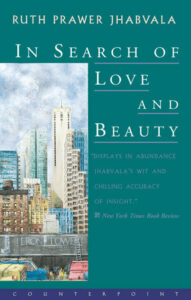 This observant and insightful novel reveals, in rich and poignant detail, the interior lives of three generations of people in their quest for love and beauty Louise, not content with her husband's gentle affection, strives to reclaim her youth in titillating social and spiritual adventures. Her daughter Marietta searches for beauty in lofty ideas and in her obsession for her son Mark, who believes love is to be found in the pursuit of money and young, vacuous lovers. And Leo, their eccentric, self–styled guru, satisfies himself with power–commanding the bodies and souls of his followers.
Demonstrating Jhabvala's deft twists of irony and humor, In Search of Love and Beauty brings several lifespans, full of hopes and ideals, within our grasp.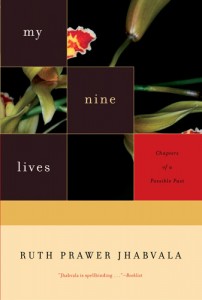 Chapters of a Possible Past
For her first novel in more than nine years, Ruth Prawer Jhabvala has written a most unusual book in a career of distinctive and unique accomplishments.
My Nine Lives
is "Chapters of a Possible Past," as the subtitle declares. It is, as the author has commented, a book filled with "invented memories." Nine vignettes are linked to portray a rich life filled with searching, from London to Delhi, from Hollywood to New York. Each chapter gathers a different cast of characters, some new and some vaguely familiar, and the linked assembly is as exciting and illuminating as an artist's first show at a Soho gallery or a new play at the Studio Theater. After seventeen books, now in her 77th year, Ruth Prawer Jhabvala takes on as her subject herself, the life she may have or may have wished to live.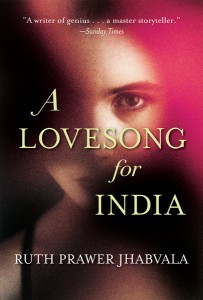 From the Booker Prize–winning novelist and screenwriter of
Howard's End
: "Cinematic" and "exquisite" stories of longing, loss, and redemption (
Publishers Weekly
).
In this expansive story collection, Ruth Prawer Jhabvala, author of
Heat and Dust
and the screenplays for
The Remains of the Day
and
A Room with a View
, continues her lifelong meditation on East and West. Set in India, England, and New York City,
A Lovesong for India
reveals what unites us across oceans, cultures, and lifetimes.
In "Innocence," an older couple, whose social standing is marred by a decades–old scandal, rent out rooms in their Delhi home for both companionship and income. The couple becomes deeply invested in the lives of their two tenants, but with the addition of a third renter—a beautiful and provocative woman from India—tensions in the household push the story to its feverish conclusion.
"Talent" finds Jhabvala in New York City reflecting on the friction between family and societal expectations. Magda is a talent scout whose work is her entire life until she meets Ellie, a singer whose immense ability and unguarded personality captivate Magda. Soon Ellie is integrated into Magda's extended family—for better or worse. This remarkable collection is the hallmark of Jhabvala's celebrated career and a testament to her "balance, subtlety, wry humor, and beauty" (
The New York Times
).