Books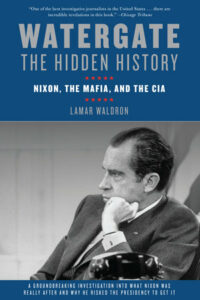 The Hidden History
A groundbreaking investigation into the events of the Watergate Scandal, complete with fascinating new material, all "exhaustively researched" in the author's customary style (The New York Observer)
While Richard Nixon's culpability for Watergate has long been established, what's truly remarkable is that after almost fifty years, conventional accounts of the scandal still don't address Nixon's motive. Why was President Nixon willing to risk his reelection with so many repeated burglaries at the Watergate—and other Washington offices—in just a few weeks? What motivated Nixon to jeopardize his presidency by ordering the wide range of criminal operations that resulted in Watergate? What was Nixon so desperate to get at the Watergate, and how does it explain the deeper context surrounding his crimes?
For the first time, the groundbreaking investigative research in
Watergate: The Hidden History
provides documented answers to all of those questions. It adds crucial missing pieces to the Watergate story—information that President Nixon wanted, but couldn't get, and that wasn't available to the Senate Watergate Committee or to Woodward and Bernstein. This new information not only reveals remarkable insights into Nixon's motivation for Watergate, but also answers the two most important remaining questions: What were the Watergate burglars after? And why was Nixon willing to risk his Presidency to get it?
Watergate: The Hidden History
reexamines the historical record, including new material only available in recent years. This includes thousands of recently declassified CIA and FBI files, newly released Nixon tapes, and exclusive interviews with those involved in the events surrounding Watergate—ranging from former Nixon officials to key aides for John and Robert Kennedy. This book also builds on decades of investigations by noted journalists and historians, as well as long–overlooked investigative articles from publications like
Time
magazine, the
Los Angeles Times
, and the
New York Times
.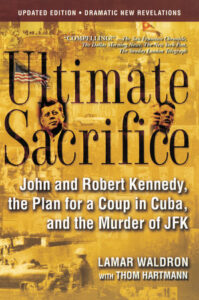 John and Robert Kennedy, the Plan for a Coup in Cuba, and the Murder of JFK
A landmark in historical research, tying the Mafia and Cuba to the assassination of JFK—updated to reveal the role of Cuban Commander Juan Almeida.
Recent revelations by the U.S. government point to Cuba's former number three official—Commander Juan Almeida—as secretly working with President John F. Kennedy in November 1963 to overthrow Fidel Castro. This updated edition of
Ultimate Sacrifice
tells the full story for the first time—complete with new photos and documents. The authors obtained the story from almost two dozen associates of John and Robert Kennedy, starting in 1990 with JFK's Secretary of State Dean Rusk. Their accounts are supported by thousands of newly released files at the National Archives.
A "palace coup," set for December 1, 1963, was to be backed up by U.S. forces "invited" in by Commander Almeida, then Chief of the Cuban Army. However, three Mafia bosses being targeted by Attorney General Robert F. Kennedy used several CIA assets to infiltrate the secret plot and murder JFK. The new edition explains why Almeida was not a double agent, why Fidel suspected Almeida's ally Che Guevara, and what Fidel did in 1990 when he finally found out about Almeida's work for JFK.
"How well do the authors make their case? With a relentless accumulation of detail, a very thorough knowledge of every political and forensic detail and the broad perspective of historians rather than assassination theorists." —
Publishers Weekly
(starred review)
"At last, the mysteries surrounding JFK's death are fully explained by the startling revelations in this book." —William W. Turner, former FBI agent and author of
Deadly Secrets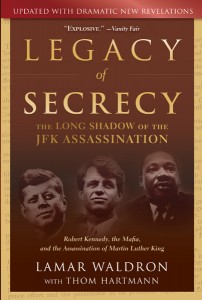 The Long Shadow of the JFK Assassination
From the authors of Ultimate Sacrifice—this "riveting take on the assassination itself and the devastating results of government secrets . . . proves the continuing relevancy and importance of seeking the truth behind one of the US's most personal tragedies" (Publishers Weekly, starred review).
John F. Kennedy's assassination launched a frantic search to find his killers. It also launched a flurry of covert actions by Lyndon Johnson, Robert F. Kennedy, and other top officials to hide the fact that in November 1963, the United States was on the brink of invading Cuba as part of a JFK–authorized coup. The coup plan's exposure could have led to a nuclear confrontation with Russia, but the cover–up prevented a full investigation into Kennedy's assassination, a legacy of secrecy that would impact American politics and foreign policy for the next forty–five years. It also allowed two men who confessed their roles in JFK's murder to be involved in the assassination of Dr. Martin Luther King in 1968. Exclusive interviews and newly declassified files from the National Archives document in chilling detail how three mob bosses were able to prevent the truth from coming to light until now.
The trade paperback is updated with dramatic new revelations, has three new chapters, an expanded photo-document section, and updated text throughout, including the completed story of how three powerful Mafia bosses used John and Robert Kennedy's top–secret plan of staging a coup against Fidel Castro to murder JFK.
"Explosive . . . based mainly on government documents from the National Archives." —Vanity Fair"They've done a service by digging up the deepest, darkest, most disturbing archival evidence to support their Mob hit theory." —Ron Rosenbaum, New York Times bestselling author of
Explaining Hitler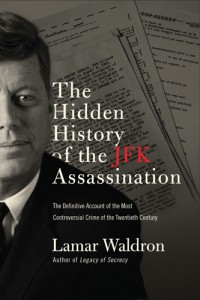 The Definitive Account of the Most Controversial Crime of the Twentieth Century
This fascinating account of the most infamous crime of the 20th century draws on never-before-published information to reveal the Mafia conspiracy that led to the assassination of John F. Kennedy.
For the first time, this concise and compelling history seeks to answer the questions that have haunted Americans for decades: Why and how was JFK murdered?
The Hidden History of JFK's Assassination
draws on exclusive interviews with more than two dozen associates of John and Robert Kennedy, in addition to former FBI, Secret Service, military intelligence, and Congressional personnel, who provided critical first–hand information. The book also uses government files—including the detailed FBI confession of notorious Mafia godfather Carlos Marcello—to simply and clearly reveal who killed JFK. Using information never published before, the book uses Marcello's own words to his closest associates to describe the plot. His confession is also backed up by a wealth of independent documentation.
This book builds on the work of the last Congressional committee to investigate JFK's murder, which concluded that JFK "was probably assassinated as a result of a conspiracy," and that godfathers "[Santo] Trafficante [and Carlos] Marcello had the motive, means, and opportunity to assassinate President Kennedy." However, it also draws on exclusive files and information not available to Congress, that have only emerged in recent years, to fully explain for the first time how Marcello and Trafficante committed—and got away with—the crime of the 20th century.