Books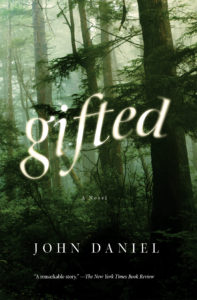 A Novel
"[A] remarkable story." —The New York Times Book Review
Henry Fielder, solitary and unmoored in his thirties, runs into an old lover and finds himself ready to tell the story he has harbored for two decades. He is fifteen, in rural western Oregon, enduring a year of sorrows. His mother has died, his father is physically abusive, and his extraordinary spiritual affinity for the wild lives of his native country seems to desert him. An older couple, retiring to the area from California, offer solace and expanded cultural horizons but set him further at odds with his millworker father. The abuse escalates, and ultimately a natural disaster catalyzes a crisis in which father and son betray each other and Henry sets out on a trek through the backcountry of the Oregon Coast Range, seeking to understand what has happened and to forge a new sense of self.
A Huck Finn of the modern age, Henry is portrayed with a directness and clarity that pulls readers through the environmental dynamics of the Pacific Northwest. In stark yet beautiful prose that highlights his long tenure as a nature writer, Daniel creates an odyssey that explores the spiritual dimensions and deeply entangled pains and pleasures of belonging to the human domain and the natural world of which it is part.
Set in the mid–1990s, when environmentalists and timber communities warred over the future of the last Northwestern old–growth forests,
Gifted
is the story of a young man with a metaphysical imagination—naïve yet wise, gifted yet ordinary—who comes of age under harsh circumstances, negotiating the wildness of his home country, of his human relationships, and of the emerging complexities of his own being.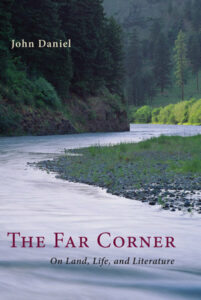 On Land, Life, and Literature
John Daniel writes from the ground he walks on and the landscape he inhabits in the northwest corner of America, spinning narratives that seek to discover how he belongs to the land and to the wholeness of life itself. He takes his readers to beaches, old–growth forests, sagebrush steppe–lands, and deep river canyons — wild places, and places scarred by human exploitation — and leads us too through inner terrains where he explores mortality, creativity, and spirituality.
Both lyrical and informative, these essays are diverse in focus, various in length, and inventive in form — one is constructed as a journal, two as linear montages. By turns playful, awed, cantankerous, and tender in tone, they deliver themselves in a style of high informality, welcoming readers to join the author as he journeys through some of the puzzlements, sadnesses, and small glories of living. This collection extends John Daniel's earlier work,
The Trail Home
, in the personal essay form.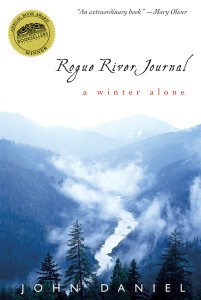 In November of 2000, after the presidential election but before the final results had been handed down by the Supreme Court, John Daniel climbed into his pickup, drove to a remote location in Oregon's Rogue River Canyon, and quit civilization. The strictures were severe with no two–way human communication — not even with his wife — and no radio, no music, not even his cat. He would isolate himself in a cabin sure to be snowed in soon after his arrival, intent on hearing no human voice but his own until spring thawed the road. This experiment in solitude was an attempt to clarify his identity while pursuing daily life without the distractions of the world at large. Daniel had spent a week or two alone before, but this would be an entirely new challenge, and as he drove off into the mountains he felt a fear–tinged freedom.
Rogue River Journal
chronicles his journey in solitude, a season of memory, and his search for a coherent place to stand on the earth.