Books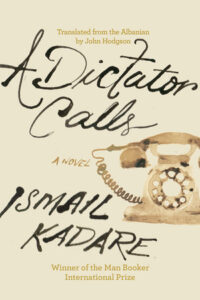 The Wall Street Journal, A Best Book of the Year

Using a sophisticated and literary version of the ever-popular game of telephone to examine the relationship of writers with tyranny, Ismail Kadare reflects on three particular minutes in a long moment of time when the dark shadow of Joseph Stalin passed over the world
In June 1934, Stalin allegedly called Boris Pasternak and they spoke about the arrest of Osip Mandelstam. A telephone call from the dictator was not something necessarily relished, and in the complicated world of literary politics it would have provided opportunities for potential misunderstanding and profound trouble. But this was a call one could not ignore. Stalin wanted to know what Pasternak thought of the idea that Mandelstam had been arrested.
Ismail Kadare explores the afterlife of this phone call using accounts of witnesses, reporters, writers such as Isaiah Berlin and Anna Akhmatova, wives, mistresses, biographers, and even archivists of the KGB. The results offer a meditation on power and political structure, and how literature and authoritarianism construct themselves in plain sight of one another. Kadare's reconstruction becomes a gripping mystery, as if true crime is being presented in mosaic.
A little time ago the poet Mandelstam was arrested. What have you to say to that, Comrade Pasternak?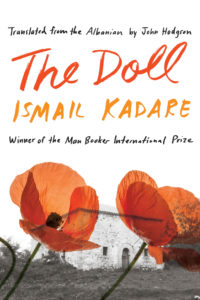 A Portrait of My Mother
In this autobiographical novel, Albania's most renowned novelist and poet Ismail Kadare explores his relationship with his mother in a delicately wrought tale of home, family, creative aspirations, and personal and political freedom.
"Houses like ours seemed constructed with the specific purpose of preserving coldness and misunderstanding for as long as possible."
In his father's great stone house with hidden rooms and even a dungeon, Ismail grows up with his mother at the center of his universe. Fragile as a paper doll, she finds herself at odds with her tight–lipped and wise mother–in–law who, as is the custom for women of a certain age, will never again step foot over the threshold to leave her home. Young Ismail finds it difficult to understand his mother's tears, though he can understand her boredom. She told him the reason herself in a phrase that terrified and obsessed the boy: "The house is eating me up!"
As Ismail explores his world, his mother becomes fearful of her intellectual son—he uses words she does not understand, writes radical poetry, falls in love far too easily, and seems to renounce everything she believes in. He will, she fears, have to exchange her for some other superior mother when he becomes a famous writer.
The Doll
is a delicate and disarming autobiographical novel, an exploration of Kadare's creative aspirations and their tangled connections to his childhood home and his mother's tenuous place within it.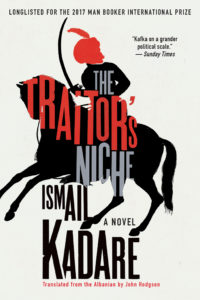 A Novel
"Kadare is inevitably linked to Orwell and Kundera, but he is a far deeper ironist than the first, and a better storyteller than the second. He is a compellingly ironic storyteller because he so brilliantly summons details that explode with symbolic reality." —The New Yorker
At the heart of the Ottoman Empire, in the main square of Constantinople, a niche is carved into ancient stone. Here, the sultan displays the severed heads of his adversaries. People flock to see the latest head and gossip about the state of the empire: the province of Albania is demanding independence again, and the niche awaits a new trophy . . .
Tundj Hata, the imperial courier, is charged with transporting heads to the capital—a task he relishes and performs with fervor. As he travels through obscure and impoverished territories, he makes money from illicit side–shows, offering villagers the spectacle of death. The head of the rebellious Albanian governor would fetch a very high price indeed.
The Traitor's Niche
is a surreal tale of tyranny and rebellion, in a land where armies carry scarecrows, state officials ban entire languages, and the act of forgetting is more complicated than remembering.
Long-listed for the 2017 Man Booker International Prize"The name of the Albanian novelist Ismail Kadare regularly comes up at Nobel Prize time, and he is still a good bet to win it one of these days . . . He is seemingly incapable of writing a book that fails to be interesting." —The New York Times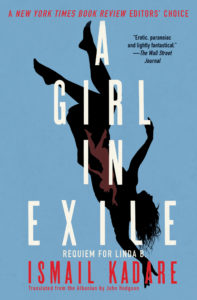 Requiem for Linda B.
A New York Times Book Review Editors' Choice



"Erotic, paranoiac and lightly fantastical." —The Wall Street Journal



"Ismail Kadare's readers are astonished every year when the Nobel committee overlooks him. . . . A Girl in Exile, published in Albanian in 2009, may rekindle the worldwide hopes." —The New York Times Book Review
During the bureaucratic machinery of Albania's 1945–1991 dictatorship, playwright Rudian Stefa is called in for questioning by the Party Committee. A girl—Linda B.—has been found dead, with a signed copy of his latest book in her possession.
He soon learns that Linda's family, considered suspect, was exiled to a small town far from the capital. Under the influence of a paranoid regime, Rudian finds himself swept along on a surreal quest to discover what really happened to Linda B.
"At a time when parts of the world are indulging nostalgia for communism, Kadare's novel confronts the infuriating impossibility of art in an autocratic, anti–individualist system." —The Washington Post



"A Girl in Exile confirms Kadare to be the best writer at work today who remembers—almost aggressively so, refusing to forget—European totalitarianism." —The New Republic