Books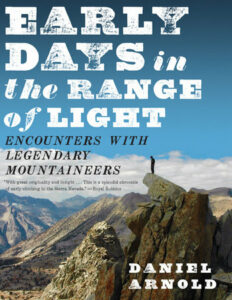 Encounters with Legendary Mountaineers
"A splendid chronicle of early climbing in the Sierra Nevada." —Royal Robbins
It's 1873. Gore–Tex shells and aluminum climbing gear are a century away, but the high mountains still call to those with a spirit of adventure. Imagine the stone in your hands and thousands of feet of open air below you, with only a wool jacket to weather a storm and no rope to catch a fall.
Daniel Arnold did more than imagine—he spent three years retracing the steps of his climbing forefathers, and in
Early Days in the Range of Light
, he tells their riveting stories. From 1864 to 1931, the Sierra Nevada witnessed some of the most audacious climbing of all time. In the spirit of his predecessors, Arnold carried only rudimentary equipment: no ropes, no harness, no specialized climbing shoes. Sometimes he left his backpack and sleeping bag behind as well, and, like John Muir, traveled for days with only a few pounds of food rolled into a sack slung over his shoulder. In an artful blend of history, biography, nature, and adventure writing, Arnold brings to life the journeys and the terrain traveled. In the process he uncovers the motivations that drove an extraordinary group of individuals to risk so much for airy summits and close contact with bare stone and snow.
"Ever wish you could travel back to climbing's early days and follow the earliest first–ascent visionaries? This fantasy comes to life . . . in this elegant narrative." —
Climbing Magazine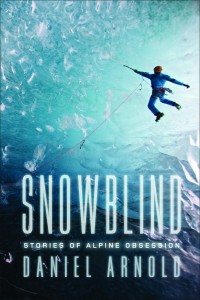 Stories of Alpine Obsession
In this powerful debut story collection, veteran travel write and climber Daniel Arnold brings to life the men and women—complete with their scars and dark corners—whose lives are defined by the mountains they climb. The characters who populate
Snowblind
are obsessed with the jagged beauty and driven by the physical ricks of dangerous summits. Their climbs end not on heights, but in the psychological aftermath, when their compulsions crash back into reality.
Deep in Alaska, a fanatic soloist seeks her way back through the wilderness when her pilot fails to pick her up after a triumphant climb. In a climbers' hostel in Argentina, a young mountaineer tries to explain abandoning his fallen partner in a blizzard on Aconcagua. On K2, an anarchist fails to fit in on a modern Himalayan expedition—with disastrous results. Tension fills Arnold's stories, both from the finely crafted, sweaty–palmed drama of the climbs he imagines, and also from the cracks that open in each of his characters' psyches.
Snowblind
is a dose of old world adventure writing made modern for a new generation fascinated by the mystique of climbing. For both serious climbers and those who may never tie onto a rope the thrill of these stories, complete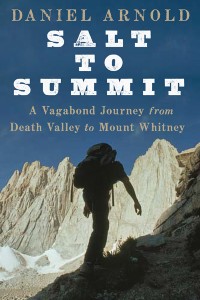 A Vagabond Journey from Death Valley to Mount Whitney
From the depths of Death Valley, Daniel Arnold set out to reach Mount Whitney in a way no road or trail could take him. Anything manmade or designed to make travel easy was out. With a backpack full of empty two–liter bottles, and the remotest corners of desert before him, he began his toughest test yet of physical and mental endurance.
Badwater Basin sits 282 feet below sea level in Death Valley, the lowest and hottest place in the Western Hemisphere. Mount Whitney rises 14,505 feet above sea level, the highest point in the contiguous United States. Arnold spent seventeen days traveling a roundabout route from one to the other, traversing salt flats, scaling dunes, and sinking into slot canyons. Aside from bighorn sheep and a phantom mountain lion, his only companions were ghosts of the dreamers and misfits who first dared into this unknown territory. He walked in the footsteps of William Manly, who rescued the last of the forty–niners from the bottom of Death Valley; tracked John LeMoigne, a prospector who died in the sand with his burros; and relived the tales of Mary Austin, who learned the secret trails of the Shoshone Indians. This is their story too, as much as it is a history of salt and water and of the places they collide and disappear.
Guiding the reader up treacherous climbs and through burning sands, Arnold captures the dramatic landscapes as only he can with photographs to bring it all to life. From the salt to the summit, this is an epic journey across America's most legendary desert.