Books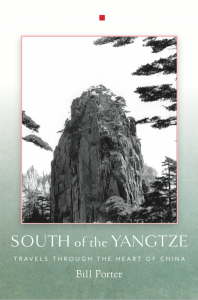 Chinese civilization first developed 5,000 years ago in North China along the middle and lower reaches of the Yellow River. And the Yellow River remained the center of Chinese civilization for the next 4,000 years. Then a thousand years ago, this changed. A thousand years ago, the center of Chinese civilization moved to the Yangtze. And the Yangtze, not the Yellow River, has remained the center of its civilization. A thousand years ago, the Chinese came up with a name for this new center of its civilization. They called it Chiangnan, meaning "South of the River," the river in question, of course, being the Yangtze. The Chinese still call this region Chiangnan. Nowadays it includes the northern parts of Chekiang and Kiangsi provinces and the southern parts of Anhui and Kiangsu. And some would even add the northern part of Hunan. But it's not just a region on the map. It's a region in the Chinese spirit. It's hard to put it into words. Ask a dozen Chinese what "Chiangnan" means, and they'll give you a dozen different answers. For some the word conjures forests of pine and bamboo. For others, they envision hillsides of tea, or terraces of rice, or lakes of lotuses and fish. Or they might imagine Zen monasteries, or Taoist temples, or artfully–constructed gardens, or mist–shrouded peaks. Oddly enough, no one ever mentions the region's cities, which include some of the largest in the world. Somehow, whatever else it might mean to people, Chiangnan means a landscape, a landscape and a culture defined by mist, a landscape and a culture that lacks the harder edges of the arid North.
In the Fall of 1991, Bill Porter decided to travel through this vaporous land, following the old post roads that still connected its administrative centers and scenic wonders, its most famous hometowns and graves, its factories and breweries, its dreamlike memories and its mist, and he was joined on this journey by his poet and photographer friends, Finn Wilcox and Steve Johnson. South of the Yangtze is a record in words and black and white images of their trip.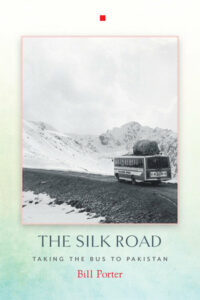 Taking the Bus to Pakistan
To travel upon the Silk Road is to travel through history. Millennia older than California's Camino Real, and perhaps even a few years senior to the roads of the Roman Empire, the Silk Road is a network of routes stretching from delta towns of China all the way to the Mediterranean Sea – a cultural highway considered to be essential to the development of some of the world's oldest civilizations. It was upon this road that that Chinese silk traveled and was exchanged for incense, precious stones, and gold from India, the Middle East and as far the Mediterranean, contributing to the great tradition of commercial and idea exchange along the way.
In the fall of 1992, celebrated translator, writer, and scholar Bill Porter left his home in Hong Kong and decided to travel from China to Pakistan by way of this famous and often treacherous Silk Road. Equipped with a plastic bottle of whiskey, needle–nose pliers, and the companionship of an old friend, Porter embarks upon the journey on the anniversary of Hong Kong's liberation from the Japanese after World War II and concludes in Islamabad, the capital of Pakistan, at the end of the monsoon season. Weaving witty travel anecdotes with the history and fantastical mythology of China and the surrounding regions, Porter exposes a world of card–sharks, unheard–of ethnic minorities, terracotta soldiers, nuclear experiments in the desert, emperors falling in love with bathing maidens, monks with miracle tongues, and a giant Buddha relaxing to music played by an invisible band.
The Silk Road
is the second of a three–book memoir series about Porter's travels in and around China to be published by Counterpoint. With an eye for cultural idiosyncrasies and a vast knowledge of history, Porter continues to make with his mark as an expert and travel writer.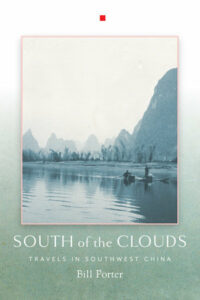 Travels in Southwest China
While flipping through the atlas of Chang Ch'i–yun, one of China's most famous geographers, distinguished translator Bill Porter (Red Pine) developed a curiosity about the southwestern province of China. Dubbed Yun–nan, "South of the Clouds," this was the last area modern China to come under Chinese control. Originally conquered by the Mongols and eventually introduced to foreigners as a vibrant setting for trade, Yun–nan became a critical crossroad connecting East and West.
In 1992, Porter left his home in Hong Kong to tour the small towns and major cities of Yun–nan, studying each of their local cultures and larger impacts on the trajectory of Chinese history. Here, he shares his encyclopedic knowledge of the nation's beautiful legacy while introducing new insight about the province's landscapes, people, and recent state of affairs. He visited Bulang Mountain, where the local people had no written language of their own, so they sent their children to live as monks in nearby Tai temples to learn Tai script. He saw women in Lijiang who wore traditional sheepskin jackets that bore seven frogeyes without clear explanation. In Dali, a small town turned urban center, he recalls a massive museum built to show off the city's new wealth, only to have half of its halls left empty and unvisited.
The first of a series of three China travel memoirs to be published by Soft Skull, Bill Porter's book tells the incredible story of a spread of land with a thousand years of human history. His remarkable insight and unparalleled understanding of China place this book at the forefront of East Asian travel literature.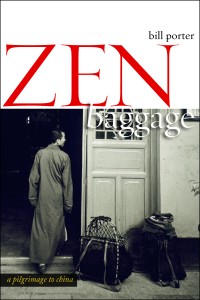 A Pilgrimage to China
In the spring of 2006, Bill Porter traveled through the heart of China, from Beijing to Hong Kong, on a pilgrimage to sites associated with the first six patriarchs of Zen.
Zen Baggage
is an account of that journey. He weaves together historical background, interviews with Zen masters, and translations of the earliest known records of Zen, along with personal vignettes. Porter's account captures the transformations taking place at religious centers in China but also the abiding legacy they have somehow managed to preserve. Porter brings wisdom and humor to every situation, whether visiting ancient caves containing the most complete collection of Buddhist texts ever uncovered, enduring a six–hour Buddhist ceremony, searching in vain for the ghost in his room, waking up the monk in charge of martial arts at Shaolin Temple, or meeting the abbess of China's first Zen nunnery. Porter's previously published
Road to Heaven: Encounters with Chinese Hermits
has become recommended reading at Zen centers and universities throughout America and even in China (in its Chinese translation), and
Zen Baggage
is sure to follow suit.