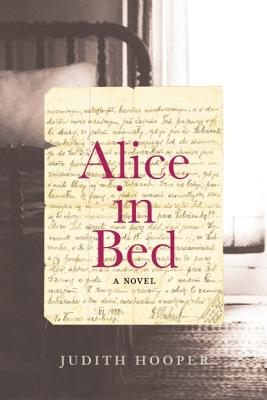 The Wall Street Journal reviews Judith Hooper's debut novel Alice in Bed. Book critic Sam Sacks writes, "Ms. Hooper splendidly captures the humor and equanimity with which James faced her ailments… And the writing is elegantly dressed in the language of the period…"
October 30, 2015
Fiction Chronicle: Textual Intrigue
When Judith Hooper's Alice in Bed (Counterpoint, 392 pages, $25) begins, Alice James, the younger sister of Henry and William, is 38 and has checked herself into the Royal Leamington Spa in the English Midlands. For most of her life, she was plagued by a battery of infirmities — vertigo, migraines, rheumatism — that fall under the catchall diagnosis of neurasthenia. She had long tried to manage these illnesses, but when she went to Leamington in 1887, she took to bed and effectively did not get up again before her death from breast cancer five years later.
This sounds like the makings of a pitiable story, but it was during these final years that she produced her diary, which throbs with wisdom and perception, and, most remarkably, an enthusiasm for life: "Nurse says that there are some people downstairs who drive everywhere and admire nothing," she wrote in 1889. "How grateful I am that I actually do see, to my own consciousness, the quarter of an inch that my eyes fall upon; truly, the subject is all that counts."
The pleasure of Ms. Hooper's novel comes from its ability to summon this warmth and vitality. "To an observer it looks as if I am immobilized," her James remarks, "but I am a traveler with a spectral Baedeker, visiting all of the places and people I have known." The novel is made of these memories — of her stifled New England upbringing, the grand adventure of her European travels, her loving if troublesome relationships with her famous brothers and her devoted "Boston marriage" with Katherine Peabody Loring.
Ms. Hooper splendidly captures the humor and equanimity with which James faced her ailments (she cheerfully notes that "when you faint every day, you soon get used to it and it becomes a sort of hobby"). And the writing is elegantly dressed in the language of the period, though it must be said that this is borrowed finery, as many stirring phrases — "A congenital faith flows through me now, making all of the arid places green" — come directly from the diary. If "Alice in Bed" encourages readers to hunt down the original, so much the better.