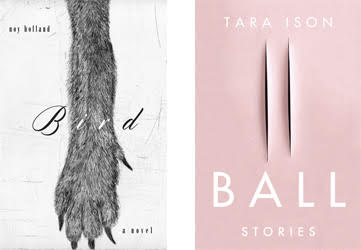 We're thrilled to see that Publishers Weekly has selected not one but two of our titles as their pick of the week. Congratulations to Noy Holland, author of Bird: A Novel, and Tara Ison, author of Ball: Stories!
November 6, 2015
PW Picks: Books of the Week, November 9, 2015
Bird by Noy Holland (Counterpoint) – In her powerful debut novel, Holland (What Begins with Bird) tells the story of Bird, a mother and wife who, over the course of an innocuous weekday, reminisces about her drug-fueled spell with Mickey, a past flame, after a telephone call from an old friend, Suzie, tips her off to his latest escapades. Alternating between past and present, Bird mentally slips into her former life—a time of squatting in rundown buildings, risky sex, suffering a miscarriage, traveling cross-country, and encountering odd characters—as her contemporary self watches her son board the school bus and, later, soaks in the tub with her infant daughter, in Bird's rural home in a vague Northeast setting. Telephone conversations with Suzie, who is embracing the wild existence Bird abandoned, bridge the eventually blurring time lines and result in a surreal journey. Holland crafts a deceptive narrative, one that on the surface appears to chronicle the dreariness of domesticity, yet ultimately transforms itself into a densely layered tale of lust and ache, filled with touches of the bizarre. A fascinating novel.
Ball by Tara Ison (Soft Skull) – The synthetic blond, the berserk lover, the horny teenager—Ison delves into the minds of these characters and others in this captivating and disturbing collection of stories: think Mary Gaitskill or Miranda July, but more demented. Ison writes about sex as the undercurrent of all adult life. Past abuse, current relationships, future encounters—none dispel the magnetic tug of human sexual attraction. The erratic narrator of the title story is just as annoyed by her dog's obsession with playing ball as her boyfriend Eric is annoyed by her obsession with the dog. Eric breaks up with her, but she can't break up with the dog. Or can she? In "Fish," the main character waits for her dreaded uncle to die so that she can quietly feed his remains to the fish at a botanical gardens. Another story dramatizes the wig shopping one friend must do for her friend dying of cancer. The resentment between the friend builds to a startling climax with a pair of tweezers. These stories may shock but they also provoke, with many leading to an unexpected, and not always happy, ending.