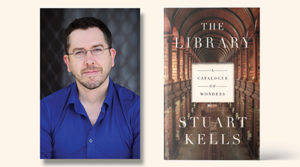 How did you come to write this book? What's the story of this story?
I read a lot of books about books, and visit a lot of libraries – for research and pleasure. I've also published books about books, such as Australian Book Collectors, which is a record of hundreds of public and private collections. So for many years I've been collecting stories about libraries. And the stories are fascinating. The same characters and the same appetites come up again and again. Patterns and symmetries in how people have gathered books, and cared for and used them, for reading and much more besides. Looked at together, the library stories create a rich picture of the value of books and libraries, which connect past and present, and connect the world. The Folger Shakespeare Library in Washington D.C. has books from Rome, London, Edinburgh, Amsterdam, Vienna – and Rabaul in New Guinea. Alberto Manguel bought Penguin paperbacks in Tunis, Tucumán, Reykjavik and the Cook Islands – and he took a Penguin to Babylon, 'the starting place of every book'.
Libraries are romantic, melancholy places. I wanted to write a book that was built around elemental, human themes. I sketched a draft outline that looked like the tracks on a Cure album: Love, Sex, Theft, Fire, Death. I'm fascinated by stories of people living, sleeping, dying with their books. And by library secrets, controversial libraries, dangerous libraries. My ambition was to change how people thought about libraries and their importance. For people who'd fallen out of love with their libraries, I wanted to give them a nudge, an excuse to reconnect.
What are you reading right now?
An Australian book: The Boy from Baradine, a moving memoir by Craig Emerson, a former politician. I read widely. A lot of bibliography, journalism, criticism. Arts & Letters Daily religiously. And every day I read to my daughters, aged six and two.
What's the one book that you recommend to people, over and over?
Frederic Manning's The Middle Parts of Fortune, a story of soldiers' experiences on the Western Front in World War I. Manning himself saw action on the Somme. He was a fastidious writer. According to legend, the publisher Peter Davies had to lock him away to force him to finish the book. When it appeared it was a great success. Ernest Hemingway and T. E. Lawrence covered it in praise. The writing is raw, smart, lucid. The messages about war are urgent.
Who are some of your writer mentors? Do you find that's changed over time as you evolve as a writer or do they remain the same?
Living most of my life in Melbourne, a UNESCO City of Literature, I was spoilt for mentors. The historian Geoffrey Blainey (for several years my next door neighbour). The children's book author Ivan Southall (whom I knew late in his life through a local bookroom). The editor and publisher Michael Heyward; many years ago I was his publishing assistant. I learned a lot from him and his authors, such as Inga Clendinnen, Gideon Haigh, Gavin Souter and Gerald Murnane. Making every word and sentence count. Visualising the finished book. Marshalling thoughts and information. Boiling down, paring back, refining and refining. (The best writing metaphors are from the kitchen or the workshop.) My favourite books haven't changed much over the years, though I see them through different eyes, and I'm continually adding to the list. I admire the precision of Woolf and Joyce, the unique vision of Philip K. Dick. I've always had a soft spot for all good fantasy and sci-fi. More recent favourites include W. G. Sebald and Will Eaves. Often, after I've written something, I line it up against a benchmark and ask, 'Is my work up to standard? How can I improve it?'
What is your favourite library, and why? What draws you to that place?
Many candidates come to mind. The Abbey Library of San Gallen in Switzerland is a magnificent place, still very much as it was centuries ago. A Baroque monastic library with a rich history and beautiful setting. I also love the Houghton at Harvard, and the Folger in Washington. First class books in ideal surroundings. My favourite home-town library is the State Library of Victoria. Spectacular reading room, wonderful rare books collection, great exhibitions, rich archives. Around the world, many public libraries are under threat. It is a treat to work in a library that is well funded and well managed by professional staff.