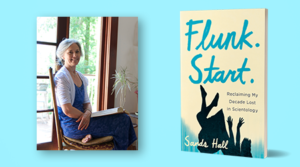 How did you come to write this novel? What's the story of this story?
As I say towards the beginning of Flunk. Start, I spent a decade of my life pretending a decade of my life had never happened. That decade included the seven years I spent in the Church of Scientology, and the three it took before I was certain I wouldn't, once again, be pulled back to it. Then almost another decade went by when I was largely unable to think or to want to speak openly about it.
But at the college where I'm lucky enough to be a professor, I started to teach a course, Introduction to Myth and Fairy Tale. As I began to lecture how one has to go "into the woods" (in a fairytale) and descend to "the underworld" (in the myths of the hero's journey), I was often struck that I might apply those ideas to my own long and strange pilgrimage. But then I'd shake my head: Snow White learns something from her time in the forest; Gilgamesh grapples with essential truths when he loses his best friend and is plunged into a darkness of a particular sort, but me? I'd just made a huge mistake.
Still, living with those ideas of Campbell's, and asking my students to apply them to, say, a tough semester, or to the travails of a pop culture figure, or to a family member who'd confronted and mastered some massive difficulty, eventually forced me to take a look at how these ideas might apply to my own time in Scientology. Finally, I began writing. What was a huge surprise was the "boon" I discovered waiting for me as I explored what I'd come to see as a pretty dark underworld. I'd no idea there was treasure to bring back from confronting those old ghosts. Hence the title, which comes from a Scientology phrase when you're drilling a particular skill: You didn't do it quite right, try again: Flunk. Start.
What are you reading right now?
Perhaps not unsurprisingly, I'm reading a lot of memoirs, especially by friends and acquaintances, that I postponed reading while working on my own. These include The Lost Night, by Rachel Howard; Filling Her Shoes, by Betsy Graziani Fasbinder; Rash by Lisa Kusel, and, quite stirringly, Broken by Lisa Jones. I'm also relishing Lynn Freed's wonderful essays in The Romance of Elsewhere and Amy Tan's compelling and wise Where the Past Begins.
These days, I also keep to hand books about the roots of Christianity: how and why it emerged out of Judaism, how and why it spread so quickly and became so entrenched in a relatively short period of time. I'm interested in the anti-Semitism buried within the Christian church, and am in the midst of browsing a number of books that deal with that and related subjects, including Constantine's Sword, by James Carroll; Adam, Eve, and the Serpent, by Elaine Pagels; and an absolutely delightful book called Sisters of Sinai: How Two Lady Adventurers Found the Hidden Gospels, by Jane Soskice, which describes the journeys across the Syrian desert—several times!—of two Victorian-era sisters, defying every odd and a lot of societal disapproval. I often give this latter book as a gift. It's a great read. And I'm always up for books that have titles like Scandal of the Dead Sea Scrolls. Intersections between myth, religion, and history have always fascinated me.
What's the one book that you recommend to people, over and over?
It's changed over the years—for quite a while it was Ann Patchett's Bel Canto; and for a few years Jennifer Egan's The Keep; it's also been Sisters of Sinai, described above; but mostly, recently, it's Elizabeth Gilbert's Signature of All Things. I'd read Gilbert's Eat. Pray. Love and enjoyed it — especially the pray part — but it wasn't as if I was waiting for her next book (the way I do with, say, Egan). But one day, when a flight east was cancelled and I was stuck for endless hours in an airport, Signature happened to be front and center in a bookstore. Some significant authors had endorsed it, and I was sucked in by the first few paragraphs. All of a sudden that enforced stay in the airport was exactly what I wanted and needed; enthralled, I had the time and focus to sink deeply into the novel. I love that Gilbert deals with history so thoroughly and evocatively, that her craft is meticulous and satisfying, that it's a deeply feminist novel, and that it presents so stirringly the natural world. I love the spirituality inherent in its title—as it is, indeed, inherent in its pages.
Who are some of your writer mentors? Do you find that's changed over time as you evolve as a writer or do they remain the same?
I started as a fiction writer and that's where my writing roots remain. I return again and again to John Gardner's Art of Fiction, and I find Forster's Aspects of the Novel very useful (I love Forster's books: Room With a View, Where Angels Fear to Tread, and especially Howard's End). Ursula LeGuin's Steering the Craft is excellent, and I've returned often to my father's (Oakley Hall) How Fiction Works. I found Sven Birkerts' The Art of Time in Memoir very useful. Perhaps most vital as I worked on Flunk. Start. were John McPhee's essays on structure published in the New Yorker. I love all of McPhee's writing, and found, especially, his Encounters with the Archdruid structurally fascinating; his ideas were hugely influential as I worked on the memoir.
What is your most prized book possession? A first edition? A gift? Please describe.
That's a hard one. But what comes to mind is a Shakespeare's Complete Works that was given to me by a friend of my parents, a professor and Shakespearean scholar, upon my graduation from the University of California, Irvine. My final semester, I had the marvelous good fortune to play Viola in a production of Twelfth Night that was directed by a member of the Royal Shakespeare Company; the entire experience was profound and inspirational. To receive that volume (the kind with a sleeve), with an inscription remarking on that performance made a huge impression on me. I've carried it with me all these days, even though I've since learned to quibble with the editors of that particular edition, and now own dozens of texts by and about Shakespeare. That college experience led to a deep involvement with the acting and eventually the directing of Shakespeare, a huge part of my life for a very long time; perhaps that's why, even now, that gift holds such resonance.