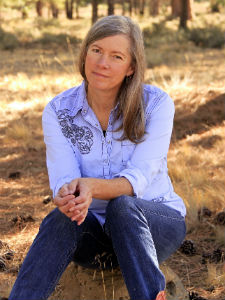 Pamela Royes is the author of Temperance Creek: A Memoir. We ask her five questions.
How did you decide to write a memoir?
One incident stands out as pivotal. Ten years ago, when I was around fifty, I was at a baby shower for a young friend. It was a warm summer afternoon and a group of twenty women were sitting in a circle on the grass. Our hostess asked us to introduce ourselves through our maternal lineage, starting with our mother's full name. I couldn't go back any further than my grandmother. I was sitting there, racking my brain, and thinking, I should know the answer to this question. At least know my great-grandmother's first name… Afterwards I went home and recounted the day to my husband, Skip. He said something like, "One, two generations, and you're all but forgotten." At the time I wasn't reading anything but fiction (memoir, as a genre was just finding it's feet). But that one incident made me realize that, along with losing the elders in my life, I was losing history, losing connection. I was raised Norwegian, Methodist, and Republican. We were stoic, we were cheerful, and for whatever reason, we didn't talk about the past. I begin researching both family trees and put together a scrapbook of cheerful anecdotes for my children. Worked on it two, three years. The thing was, it was shocking how little personal information I was able to dig up (Great Grandpa Johann always carried peppermints in his pockets and liked to belt out hymns early in the morning).
The next summer I enrolled in a memoir-writing workshop through a local literary non-profit called, Fishtrap. That first workshop was very intimidating. All around me the participants were sharing their stories of divorce and despair. Of death, fear, and rejection and the essay I'd prepared to discuss was titled, "Milking the Cow." After the workshop I set aside my novels and began reading real stories about real people, in earnest. To begin with, I wasn't ready to risk, to open, to expose those events painful or personal. Anne Lamott, in her book Bird by Bird, was ready with this advice, "You are going to have to give and give and give, or there's no reason for you to be writing. You have to give from the deepest part of yourself, and you are going to have to go on giving, and the giving is going to have to be it's own reward." Once I got started I couldn't stop. Ultimately, my soul-scratching led to writing Temperance Creek, a memoir of the early years of my marriage to a wild-ass mountain man in a wild-ass place called Hells Canyon.
What are you reading right now?
The Art of Memoir by Mary Karr and a collection of essays, old and new, by Annie Dilliard.
What's the one book that you recommend to people, over and over?
A River Runs Through It by Norman Maclean. From the first sentence to the last, beautiful. A testimony to love. An American classic.
Who are some of your writer mentors? Do you find that's changed over time as you evolve as a writer or do they remain the same?
A.A. Milne, E.B. White, J.R.R. Tolkien, C.S. Lewis. Their writing enthralled me as a child and still does today. To that list I would add: Wendell Berry, Mary Karr, Anne Lamott, and the poetry of Mary Oliver and William Stafford.
What is your most prized book possession? A first edition? A gift? Please describe.
My first book, The Little Rabbit Who Wanted Red Wings by Carolyn Sherwin Bailey. "Once upon a time there was a little White Rabbit with two beautiful pink ears and two bright red eyes and four soft little feet — SUCH a pretty little white rabbit, but he wasn't happy." There it is. The human condition. Wanting that thing we cannot have. My mother (at my urging) read this over and over to me and somehow I've managed to keep hold of it.