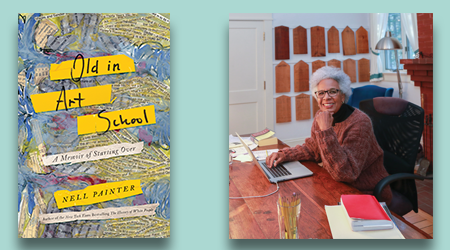 How did you come to write this book? What's the story of this story?
The notion of writing about my experience(s) in art school came very early on, even before I enrolled at Mason Gross School of the Arts at Rutgers University, for my friends voiced curiosity as soon as they discovered my musings.
At first it was the novelty of a chaired professor at Princeton climbing down from what seemed like the pinnacle scholarly achievement—the strangeness of that turning away intrigued people. Then it was asking about what was new. In either case, people I knew wanted me to send back reports from my new life. Old in Art School is that report.
Old in Art School speaks a tiny bit about the leaving, but mainly it's about what the title says: being old in a world obsessed with youth, with what one of my teachers called right-nowness. That's a challenge when you're starting out at sixty-four with twentieth-century eyes.
What are you reading right now?
I'm reading in bits and pieces, on my iPhone, on my laptop, and in hard and soft cover books I can and can't hold in my hand on the train.
In hard cover and over the most extended period of time (because it's long and fascinatingly dense) is Jeffrey Stewart's The New Negro: The Life of Alain Locke. Locke was one of the godfathers of the Harlem Renaissance, which figures in a couple of my own artist's books. This long awaited biography is more than 900 pages long, too heavy to carry about, so I just read it at home.
On my iPhone I'm enjoying Amy Bloom's White Houses, a novel of Eleanor Roosevelt and her intimate friend Lorena Hickok, after my friend Tayari Jones recommended it in a New York Times Book Review interview. My current audiobook is Mary Roach's Stiff: The Curious Lives of Human Cadavers, about dead bodies and their fascinating and disgusting fates in places like medical and embalming schools.
On New Jersey Transit between Newark and New York City I'm reading a short story collection Homesick for Another World by Ottessa Moshfegh. The stories are pleasantly unsettling.
What's the one book that you recommend to people, over and over?
I hesitate to recommend books to other people, just as I hesitate to give people advice. People mostly don't want advice; they want to be listened to. So I listen. But I have occasionally recommended a book from the twentieth century, David Bayles and Ted Orland's Art & Fear: Observations on the Perils (and Rewards) of Artmaking, a beautifully commonsensical denial of the myth of talent and praise of the virtues of just doing one's work.
Who are some of your writer mentors? Do you find that's changed over time as you evolve as a writer or do they remain the same?
Writer mentors? I don't exactly have writer mentors, because I'm not exactly a writer. I'm like a hybrid historian-visual-artist, someone who was writing history in my kind of off-beat fashion for so many years—decades—that I've forgotten who my mentors were. My history-writing voice carried over into Old in Art School, not a history book, but even so, that history voice had to change. My art mentor Sarah Lewis encouraged me when I wasn't sure I could write this book, and my agent Sarah Chalfant helped me find my memoir voice when I was just getting started. Then it was just going deeper and deeper with friends like Thadious Davis and Martha Hodes cheering me on.
What is your most prized book possession? A first edition? A gift? Please describe.
I don't have prized book possessions. Actually, I'm trying to get rid of books. Too many books around me! They keep piling up and I keep giving them away. Last week I drove a box to the East Orange, New Jersey, Public Library, but since then a few more books have wormed their way into my possession. Books! Take them away, please!