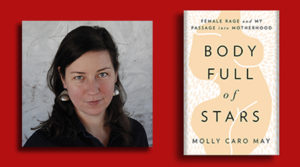 How did you come to write this novel? What's the story of this story?
I didn't really have a choice. It was knocking on my door, so to speak. I had to write it in order to start a healing process. I wrote the first draft during a 12-day residency in the Centennial Valley of Montana. I left my daughter and husband at home and brought my dog. It was very monastic. I wrote 5,000+ words a day; it was a full-body experience on every level. No part of it was hard. It poured out of me, as if the words had been waiting to land on paper my entire life. I knew it had to be bigger than my story. During the writing, I had a keen awareness of the many women out there who might be helped by the story, simply to know, "Oh, I'm not alone."
What are you reading right now?
I'm obsessed with a book called Move Your DNA by Katy Bowman. Her work is exploding and expanding my knowledge of the body and movement. It's what I want to focus on next. I just started the beautiful Homegoing by Yaa Gyasi. I'm eager to read Heart Berries by Terese Marie Mailhot (Counterpoint!) and Red Clocks by Leni Zumas (same pub date as Body Full of Stars).
What's the one book that you recommend to people, over and over?
Mink River by Brian Doyle. It's complex and what he does with language opens up so many possibilities. Reading that book gave me permission to explore (and milk) the run-on sentence and to allow the tangent, the magical, or something that doesn't make sense but does on the deepest levels.
Who are some of your writer mentors? Do you find that's changed over time as you evolve as a writer or do they remain the same?
Terry Tempest Williams is one, for the way she approaches topics and also how she lives. I've met her a few times but don't know her personally. She is sincere and heart-felt and human. The way Lidia Yuknavitch pushes boundaries inspires me. I didn't get an MFA (on purpose) and created a scrappy and amazing sort of literary learning environment during my time in NYC working (for a stint) in publishing and being part of a writer's group of motivated, kind, talented people. To that end, I've never really "studied" from a writer mentor in a classroom setting. I read and read. I crave more face-to-face contact with future writer mentors. We shall see. I think it's both. They change over time as we grow into a new iteration of our writing. They also stay the same.
What is your most prized book possession? A first edition? A gift? Please describe.
Tony Hogland's book of poetry Donkey Gospel is one my husband and I revere. Not sure whether he gave it to me or vice versa, but Hoagland speaks to us. We have always swapped poetry and been moved by it together. It's part of the foundation of our togetherness. My grandmother Pat-Pat (my mom's mom) gave me a biography of Jane Addams and her social work with Hull House in Chicago and wrote in it, "She was quite a woman. My mother took me to see her and her secretary when I was about 8 years old, but I never forgot her and you shouldn't either. Love you." Then, when I was a sophomore in high school, she gave me a short works collection of Willa Cather inscribed with, "My Sunflower Scholar, Cather is one of the all-time great writers so far, so far as I'm concerned." It's special to have my grandmother's words. She loved literature and the intellect and obviously saw the writer/reader/activist in me before I fully saw her in myself.