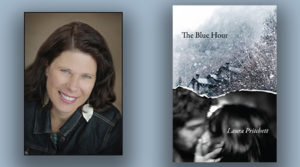 How did you come to write this novel? What's the story of this story?
This particular novel's journey started many years ago, when a short story of mine was published in The Sun. I got more fan mail from that short story than I've ever received for anything else, including all my books put together, probably – and the vast majority wrote to say thanks. Thanks for writing about sex, about fantasy, about isolation (even in the middle of relationship), about vulnerability in love.
I kept several of the letters, because they were so inspiring (never think writing a letter to an author doesn't matter!) One fan wrote: "I was especially interested in the conversation between the women about sex/orgasms/fantasies and violence. I've never seen or heard it put together quite like that, but felt a big poof! of relief and surprise … I thought I was just very peculiar, twisted, living out some sort of painful karma in that arena!"
Another emailed: "I have never written a note like this, and I am surprised at how intimidating it is to write to a writer. But I have to because I have lived with your story "Under the Apple Tree" for several months now. . .  I want to thank you for an honest, real, and intriguing look at the life of an adult woman. I wish more talented women writers would follow your lead."
I was so honored by such responses (as you can see—I've saved them all this time). That correspondence got me to thinking about doing just that—trying to continue the conversation of honest portrayals of sex in literary works. In a society that is wildly prudish on one hand, and pornographic on the other, I think we sometimes lose sight of the honest portrayal of sex and love and romance.
What are you reading right now?
One fiction and one nonfiction. The nonfiction is Rising by Elizabeth Rush – and I'm just loving it. It's not just a book about the calamities of rising sea levels and the lost habitats and homes (although it is that)—it's also a moving rumination on the rise of women as investigative reporters, the rise of tangible solutions, the rise of human endeavor and flexibility.
I'm also reading Great Tide Rising by Kathleen Dean Moore because a) I like to keep up with Counterpoint authors, and b) I love her nonfiction work, and c) I'm teaching with her at Fishtrap (a writing workshop in Oregon) in July.
Funny that they both have "rise" in the title. Maybe I should say I planned it that way.
What's the one book that you recommend to people, over and over?
That really varies on the person. But I do point people to Counterpoint books as being the best-of-the-best of what's being published today (and I'm not just saying that). I also tell people to get a subscription to The Sun magazine – for the same reason.
Who are some of your writer mentors? Do you find that's changed over time as you evolve as a writer or do they remain the same?
Kent Haruf was a great mentor until he passed away. His books were a huge influence on me – and I believe he'll go down in history as one of the greats. He was a humble man and a generous mentor. Before that, Emilie Buchwald, who was the editor in chief at Milkweed Editions, was a huge and important mentor. She took me under her wing when I was just in my twenties. I write her a thank you letter from time to time, just to remind her how grateful I am. Rick Bass continues to be a great friend and mentor as well. And I have so many writing friends—and they are my community, my peeps, my literary soulmates.
What is your most prized book possession? A first edition? A gift? Please describe.
That's a tough question! Okay, I'd say three things: an old copy of The Little Prince from my childhood, a broadside of Kent Haruf's writing gifted to me by a friend, and an arrowhead I found as a child (which is not a book possession, but it sits next to these other things). I own nothing of value, really. My books are my most prized possession.