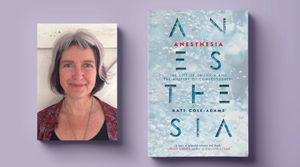 How did you come to write this novel? What's the story of this story?
Anesthesia grew in part out of the research I did for my first book, a novel called Walking to the Moon. (It's about a young woman who wakes from a coma; and includes a character who is an anesthetist.) But the genesis of this book was probably a meeting with a woman called Rachel, way back in 1999, who told me the story of the birth of her daughter. That story, of a failed general anesthetic and a near-death encounter that helped her survive, started me thinking not only about anesthesia (what actually is this weird, amazing thing?) but also about consciousness and what it is and isn't. Rachel's story became a pivot point for an exploration of the blurred uncertain boundaries between conscious and unconscious states generally, and also of my own (sometimes fractious) unconscious self. Along the way I dragged in friends, strangers, my long-suffering family – pretty much anyone who had an intriguing anesthetic story. And then, halfway through the book, I discovered I had to have major surgery of my own…
What are you reading right now?
An unusual and lovely book called The Many Ways of Seeing, a sort of collaborative memoir that follows the story of a blind athlete, Nick Gleeson, interspersing his writing with commentary and perspectives from a childhood friend and also the editor/ co-author, Peter Bishop, who helps him pull it together, and whose musings and interpolations become part of the story too. It's complicated. But very simple. I keep thinking, this really shouldn't work. And then I keep being surprised and moved.  
What's the one book that you recommend to people, over and over?
Well there's not just one But the most recent, which I've been with for a while now, is H is for Hawk by British writer Helen McDonald. It's a wonderfully rich rumination on death and life, interweaving memoir, visceral nature writing, and a fairly shattering deconstruction of the early life and writings of the late T.H. White (whose The Once and Future King helped shape the modern incarnation of the Arthurian legend). Hawk is compelling and muscular and beautiful and it lingered with me for ages. This was one of those books that came along at exactly the right time. I was in the final stages of pulling together Anesthesia and still full of doubt about the structure and hybrid preoccupations of my book. Reading McDonald's book was a delight and also a great relief: Yes!
Oh and I've just remembered the novel I've been recommending for years and which I completely love. Tirra Lirra by the River by the late Australian author Jessica Anderson. The books I love are often slender (as in shortish) and understated and powered by some deep inchoate or repressed feeling or memory. (Think The Great Gatsby or Kazuo Ishiguro's Remains of the Day). This is an Australian classic. About a woman returning at last to the country and home she escaped so many years before. It's a sort of reckoning. And so taut and precise and evocative and unadorned. Some people dislike it but I think it's pretty much perfect.
Who are some of your writer mentors? Do you find that's changed over time as you evolve as a writer or do they remain the same?
I'm fortunate to have had two significant mentor/guides, along with some perceptive and generous friends. My first mentor, author Amanda Lohrey, taught me something difficult and fundamental. We met at a mentorship program at the wonderful Varuna writers centre in the Blue Mountains outside Sydney. I had sent her a section from my 60,000 word draft manuscript, at that stage narrated entirely by a supposedly comatose woman. At the beginning of our first session, Amanda asked me (quite kindly) whether I really needed the coma. When I stared at her speechless, she said this: "Well the thing is the coma's not really working. Either you need to do more research and turn the book into a medical novel [I shook my head] or you need to work out what your coma represents." Soon after, on my request, she showed me the notes she had written on my manuscript, which included words such as "self-indulgent" and "boring". After that I limped away and probably wept for a while and then I sat down and started again; this time with my character newly awake, and wrote the first words of Walking to the Moon: "Today I walked." And I kept writing. I haven't seen Amanda for a long time now, but she taught me to know the difference between writing to disguise the truth and writing to reveal it.
What is your most prized book possession? A first edition? A gift? Please describe.
Hmmm.  Generally I'm more attached to the stories than to the physical book. That said… [she gets up, goes to the bookshelf, pulls down…] Heart-Throbs: The Magnetic, Moody Males of your Dreams, by Jack Tressider, published by Marshall Cavendish, London 1974. Ok, so not a literary masterpiece. But it's the book that my beloved friends gave me when I left London for good, aged 14, dragged back to the ghastly wastelands of suburban Melbourne, 1975. I love it because it has Paul Newman (my then favourite) on the cover collage, along with Robert Redford (who was my best friend, Harriet's, favourite). And because inside are Gregory Peck and David Niven and a beautiful dead French actor called Gerard Phillipe. And because it says of Richard Burton: "His green eyes glitter bleakly in a face like a seam of pitted rock." And most of all because on the inside front cover is a farewell letter from my friend Tilly, which begins "GOODBYE to lovely, adorable kind Kate. Don't worry I didn't pay £1.95 for it. It was reduced. Though you are worth £1.95 it's just that if it was £1.95 I wouldn't have been able to afford it."