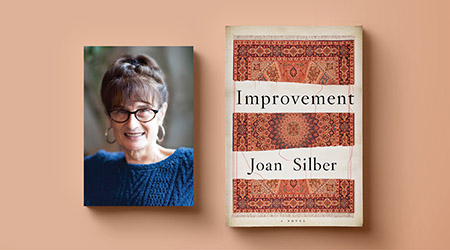 How did you come to write this novel? What's the story of this story?
Improvement started from Hurricane Sandy (which seems like a puny little storm now). When it hit New York, where I live, I heard a radio report about how elderly residents of a housing project were managing very well without electricity or gas or water; they were surprised by everyone's worry. I began to think about self-reliance—a topic always dear to me—and the character of Kiki started to form, a woman whom very little fazes. I wanted her viewed by her much younger nice, who's busy getting herself into trouble. Once I'd given the niece, Reyna, a boyfriend on Rikers Island, I saw the story heightening.
And I had wanted for a while to get Turkey—a complex place I've happily visited three times—into a story. I gave Kiki, the aunt, a youth with a Turkish husband, and I gave her a few years in the Turkish countryside so she has some third-world rural skills.
I wrote the first chapter as a story, and when I began to expand it into a novel, I saw that I wanted a fatal miscalculation of Reyna's to lead to regrets she finds a way to respond to. I wanted to write a book with the intensity of a novel but a span like linked stories—I'm always interested in the ways an event has consequences across a widening net of people.
What are you reading right now? 
I tend to read a few things at once. I just finished Stephen Batchelor's Confession of a Buddhist Atheist, I'm listening to Dickens' Our Mutual Friend on audio, and I'm at the beginning of The Story of a Brief Marriage by Anuk Arudpragasam (set in Sri Lanka, where I'm going in March).
I've always loved Dickens (my first novel got its title from him) and he's been my comfort reading since the election. Last December, I was teaching English as a volunteer in Laos. When I gave my class of teenage novice Buddhist monks some topics for writing, one of them asked if he could instead "write about a book" he was reading. I said sure—and he wrote a scene in which an escaped prisoner in the marsh gets a terrified young boy to bring him food. It was the opening of Great Expectations! I was amazed and thrilled that he loved the book (he'd even looked up the word "wittles"), and I saw how its themes of class and ambition and intrigue made perfect sense to him.
What's the one book that you recommend to people, over and over? 
You know, I don't think there's any one book I recommend to everyone. I know whom I love (see answer to the next question) but I don't expect everyone else to love them. Is that unusual? When I taught undergraduates, I always made sure they read James Baldwin's "Sonny's Blues," and my graduate students know I often make them read Colm Tóibín and David Malouf. I loved Hanya Yanagihara's, Lily King's, and Anthony Marra's last books too.
Who are some of your writer mentors? Do you find that's changed over time as you evolve as a writer or do they remain the same? 
I always say the writers who have had the most effect on me are Chekhov and Alice Munro. I read Chekhov's stories when I was still in high school, and I was knocked out by the way he could move your sympathy into places it didn't want to go. I don't read him as much as I used to, but in my living room is a photo of me at Chekhov's grave in Moscow, taken by my dear friend Jean Valentine. Alice Munro is probably a more current model for me—I go back and read her stories over when I'm stuck.
What is your most prized book possession? A first edition? A gift? 
I had to really think about this. It's probably Story and Verse for Children, a mammoth textbook with blue and silver lettering on the cover, which belonged to my mother, who had taught school, and which served me through childhood. I think first she read to me from it and then I dipped into it myself. I especially liked the fairy tales (those glamorous princesses, facing darkness and evil) and the Robert Louis Stevenson poems ("My bed is like a little boat"). I always have trouble getting rid of books—they have sort of taken over my New York apartment—but this one seems more irreplaceable than the others.