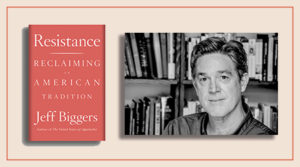 Why is it important for you to show that resistance defines our quintessential American story? 
As a long-time chronicler of American social movements, and as a participant in what historian Howard Zinn called the "unreported resistance" since the early 1980s, I felt a deeper story of American resistance needed to be brought out of the shadows today.  That our various resistance movements today needed to be rooted; otherwise, we risk burnout, divisions, and this sense of being overwhelmed in these Trump times.  
This is what I believe: In dealing with the most challenging issues of every generation, resistance to duplicitous civil authority and its corporate 
enablers has defined our quintessential American story.
Resistance has put the backbone in democracy; or rather, the resistance has given democracy a backbone.  
What are you reading right now?
I'm knee-deep into the research and writing of my next Counterpoint book, When America Was Grand: Resisting the Trump Assault on Our Nation's s Pillars of Progress, so I'm surrounded by stacks of historical documents and books on the Gilded Age and the Progressive Era, including Counterpoint author Nell Painter's classic, Standing at Armageddon.  
But I'm sneaking in chapters of Michael Ondaatje's fascinating new novel, Warlight, Painter's new memoir, Old in Art School, and Alessandro Portelli's new book on Bob Dylan, Pioggia e Veleno, that I picked up recently in Italy.
What's the one book that you recommend to people, over and over?
So many literary hearthstones for me, so many books and authors I recommend, and I love gifting books to friends.  But I find I often pass along Alfredo Vea's classic, La Maravilla, Leslie Silko's Ceremony, anything by Toni Morrison, Ron Rash, James Baldwin, and of course, Wendell Berry.  For young journalists, I gift Gene Robert's Race Beat, and for young historians, I recommend John Egerton's classic, Speak Now Against the Day.
And I've given away so many copies of Rebecca Solnit's Men Explain Things To Me I've lost count.
Who are some of your writer mentors? Do you find that's changed over time as you evolve as a writer or do they remain the same?
Never really had a mentor as much as literary influences. Though, I keep in touch with a lot of writer friends, and deeply appreciate the impact of their writing on my own. Studs Terkel's treasury of oral histories had a huge impact on my role as a story collector; Russell Banks, Toni Morrison, Milan Kundera, Italo Calvino, Carlos Fuentes, Cecile Pineda, Nadime Gordimer, Andre Malraux–these are/were the novelists that shaped my love of writing.
What is your most prized book possession? A first edition? A gift? Please describe.
I have a brittle old paperback of Walt Whitman's Leaves of Grass that I picked up in a used book stall nearly 40 years ago, which remains on my desk, among the mess of so many other wonderful books.