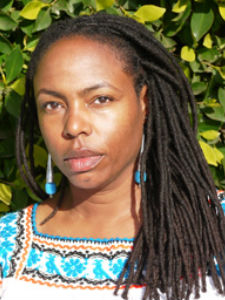 Dana Johnson is the author of In the Not Quite Dark: Stories. We ask her five questions.
What inspired you to write this short story collection?
For the last several years I've been obsessed with history, both personal and broader, social histories. I moved to downtown Los Angeles more than ten years ago, at the beginning of gentrification, and it's been fascinating to see the changes that have happened throughout the years. I live in the historic core, in the Old Bank District, in the Pacific Electric Lofts, built in 1905, and so there's so much history there. I can feel it in the hallways and out on the street. Many of my stories are set downtown, but even the stories that aren't set downtown are examinations of place and personal maps that have to do with identity, where we are going, where we have been, what haunts us.
What are you reading right now?
This never happens, but right now I happen to be immersed in two books at once. I'm listening to Yaa Gyasi's Homegoing, downloaded from Audible.com, and reading Folly by Susan Minot. Homegoing is a sweeping novel chronicling the descendents of two half sisters born in Ghana, and Folly is about the Boston upper class during WWI. It's all about the subtleties of class and manners and proper behavior, all that Edith Wharton and E.M. Forster stuff that I happen to love.
What's the one book that you recommend to people, over and over?
Always, always, I recommend The Known World by Edward P. Jones. In 2004 The Known World won the Pulitzer Prize, and it always stuns and dismays me how many people are unfamiliar with his work. The Known World won the Pulitzer, but his other books—Lost in the City, All Aunt Hagar's Children—are incomparable. I read his pages over and over again just to read brilliance and to try to learn from him. The last story in my collection, "The Story of Biddy Mason," is my attempt to write a story like Jones would write it. Of course, I don't even come close, but it was still a fun story to write, and my favorite in the whole collection.
Who are some of your writer mentors? Do you find that's changed over time as you evolve as a writer or do they remain the same?
My first real-life mentor is a brilliant, generous California writer named Lou Mathews, who was the first to encourage me, who told me I had some skills. I've known him for more than 25 years and he continues to be someone I look to. In terms of writers who have mentored me from the pages of their books, whose work has influenced me immensely, there are so many more that I won't be able to list here, but for years it has been, and will always be, writers like James Baldwin, Raymond Carver, Studs Terkel, John Edgar Wideman, Mary Gaitskill, Junot Díaz, bell hooks, John Fante, Helena María Viramontes, Toni Cade Bambara and Chris Ware. Every one of these writers (and in the case of Chris Ware, writer and illustrator) did something to me when I first read their work and, still now, when I return to their work. They inform how I enter stories and where I take my stories, inform my voice.
What is your most prized book possession? A first edition? A gift? Please describe.
We're back to Edward P. Jones on this one. I met him when my novel Elsewhere, California was up for the Hurston/Wright Award a few years back, at the award ceremony in Washington, D.C., and he was kind enough to sign my book. I didn't even mind that I didn't win that night, I was so high off the fact that he had signed my copy of The Known World. It wasn't my original copy, because that copy was beat up and marked up and stained from my carrying it with me everywhere I went. The copy he signed was new. I wrapped it in about twelve layers of plastic so that it wouldn't get a scratch on it on my way home.