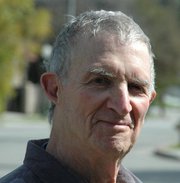 1. What inspired you to write this memoir?
My book Going Away (Houghton Mifflin Fellowship, NBA runner up) covers a road trip by the unnamed narrator driving across the country towards what future he knows not. The trigger for his travels is his ethically dubious job as a Hollywood talent agent (for Humphrey Bogart, among others). Emigrating to England, I got curious not about the narrator's inner state but what kind of movieland culture he was escaping from. Hence, Black Sunset. Call it affectionate curiosity.
2. What are you reading right now?
I commute between Elmore Leonard—taking apart his technicalities,how he moves from scene to scene, his meticulous description of even minor characters' clothes—and the funniest of all writers, Jane Austen. Books about what early 19th century life was really like vs what she chooses to write about. Re-reading Austen is like watching old basebll games on TV, very relaxing.
3. What's the one book that you recommend to people, over and over?
I must tell you the truth: since new books have such a short sales window, I do this disgusting thing over lunch and push Black Sunset.
4. Who are some of your writer mentors? Do you find that's changed over time as you evolve as a writer or do they remain the same?
Hemingway first and always, the Old Lion of my generation (about whom I wrote a book). I never had a writing class so my reading is uncanonical. When writing fiction, I hardly ever read novels but instead read fact-based journalism. I always, always recommend Orwell's essay "Politics & The English Language", now more than ever.
5. What is your most prized book possession? A first edition? A gift? Please describe.
Can't. Too many.