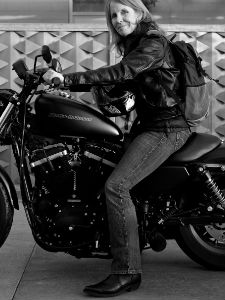 Bernadette Murphy is the author of Harley and Me: Embracing Risk on the Road to a More Authentic Life. We ask her five questions.
How did you become interested in riding motorcycles?
I took a class to learn to ride a motorcycle as research for a novel I was working on. I thought it would be cool if my main character, a young woman living in Los Angeles, got around town on a bike. I didn't expect anything from the class other than to learn enough to write a compelling character experience. But I fell in love with the feeling of grace and strength and speed and nimbleness that came via the bike, and as a result, everything in my life changed.
What are you reading right now?
When Breath Becomes Air by Paul Kalanithi, Liar by Rob Roberge, and The History of Great Things by Elizabeth Crane.
What's the one book that you recommend to people, over and over?
The Things They Carried by Tim O'Brien.
Who are some of your writer mentors? Do you find that's changed over time as you evolve as a writer or do they remain the same?
Early on, David L. Ulin, Leonard Chang, Bernard Cooper and Michelle Huneven were huge in-person mentors. John Steinbeck, Mary Karr, Joan Didion, David Foster Wallace, Mark Salzman and others were on-the-page mentors. More recently, I'm enthralled with the raw honesty of Emily Rapp and the dark, haunting short stories of Tara Ison, both of whom are mentors to me in many ways. I love that those who inspire me now are just as much in the flesh and in my life as on the page.
What is your most prized book possession? A first edition? A gift? Please describe. 
I have a first edition of Tim O'Brien's The Things They Carried that was given to me by one of my best writing friends years ago. It's beat up and unsigned. I have long been enthralled with this work that blends the lines between fiction and nonfiction and that does what I aspire to do in my own work – to make a reader feel what the author feels, to describe viscerally what an experience is like. In a section of the book called "Good Form," O'Brien explains the difference between "story truth" and "happening truth," a distinction that serves me well as a writer of narrative nonfiction. Though fiction writers can go ahead and make up whole worlds, I'm limited by what actually happened. But just because something happened doesn't make it compelling or interesting. I am always searching for the "story truth" with the "happening truth" to shape into narrative. This O'Brien first edition is that talisman that reminds me of that.