Books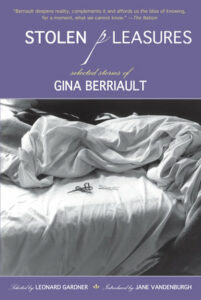 Selected Stories of Gina Berriault
"Short stories and some short novels are close to poetry—with the fewest words they capture the essence of a situation, of a human being. It's like trying to pin down the eternal moment." —Gina Berriault
Gina Berriault was one of the great, rare masters of short fiction. With commendable restraint and economy, she delivered stories that contain entire worlds inhabited by a range of characters thrown into all kinds of unsettling predicaments. As a short story writer she had a gift for tapping into the emotions of love, hope, and grief, and for making them palpable within her narratives. No two of her stories are alike, except for in the inevitable disquiet the reader feels in their wake, the exquisite unease that remains at the end of such acclaimed tales as "The Cove," "The Stone Boy," and many others.
Now, in this compelling posthumous collection, Berriault's astonishing short fiction once again proves that her position as one of America's best storytellers remains unchallenged.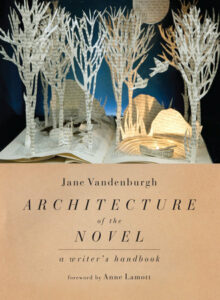 A Writer's Handbook
Jane Vandenburgh, the author of two highly acclaimed novels and a recent memoir, offers aspiring writers the tools to create powerful and unique novels filled not only with good writing but also dynamic storytelling.
Architecture of the Novel
is an ambitious blueprint for writers, one that reveals the underlying machinery that propels a plot that is dynamic, coherent, and interesting.
Architecture of the Novel
derives from the many years Vandenburgh has spent teaching the craft of fiction writing. Her method points to the elemental nature of narrative: A story consists of its events, which are told in scenes. These scenes naturally place themselves along the arc of the story in an order that provides suspense and mystery, drawing characters toward the inevitability of their fictive destinies.
Profoundly practical yet encouraging to writers at all levels,
Architecture of the Novel
offers the maps and mechanics to successfully guide writers toward the story that must be told.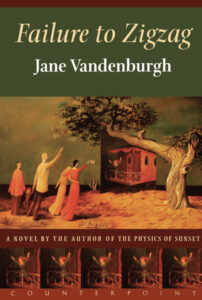 A Novel
It's southern California in the early Sixties, and Charlotte is a teenager, which is bad enough. She also has strange grandparents, with whom she lives, a schizophrenic ventriloquist alcoholic mother who appears and disappears regularly from her life, and only vague information about the father who died before Charlotte was born.
With so much craziness in the family, Charlotte figures, whether it's "nature" or "nurture," she's doomed. In
Failure to Zigzag
, Jane Vandenburgh gracefully zigzags between hilarity and sorrow as she recounts Charlotte's attempts to grow up and to practice "sanity as a form of revenge."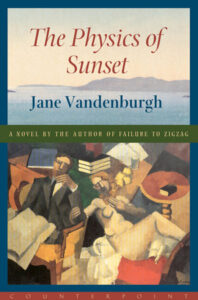 From the author hailed by
Newsweek
as "a writer of great daring and skill to match" comes a brilliant, wholly original novel about the freedoms and imprisonments of desire.
The Physics of Sunset
is a spellbinding and fearlessly accurate portrait of the complex erotics of modern married life.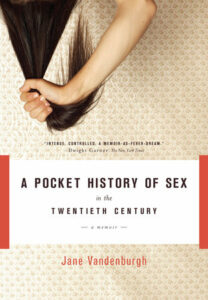 A Memoir
Born into "a certain kind of family"—affluent, white, Protestant—Jane Vandenburgh came of age when the sexual revolution was sweeping the cultural landscape, making its mark in a way that would change our manners and mores forever. But what began as an all–American life soon spun off and went spectacularly awry.
Her father, an architect with a prominent Los Angeles firm, was arrested several times for being in gay bars during the 1950s, and only freed when her grandfather paid bribes to the L.A.P.D. He was ultimately placed in a psychiatric hospital to be "cured" of his homosexuality, and committed suicide when she was nine. Her mother—an artist and freethinker—lost custody of her children when she was committed to a mental hospital. The author and her two brothers were raised by an aunt and uncle who had, under one roof, seven children and problems of their own.
In the midst of private trauma and loss, Vandenburgh delights in revealing larger truths about American culture and her life within it. Quirky, witty, and uncannily wise,
A Pocket History of Sex in the Twentieth Century
is a brilliant blend of memoir and cultural revelation.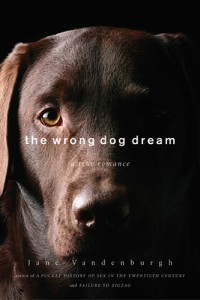 A True Romance
The author calls this "a true romance," saying, it's the part of her personal history she, being superstitious, was almost afraid to write. She'd grown up accustomed to bad luck, but had – by accident or miracle – survived her own circumstances: being orphaned, her own misspent youth, the chaos of a broken marriage. She'd more than survived, she'd even triumphed and had awakened into a kind of charmed splendor to find herself living in a white marble city with storybook castles, knowing famous people, being invited to the White House to listen to her husband discuss Yeats with the President of the United States, as Bill Clinton drinks Diet Coke from the can.
And into this fabled chapter of the writer's life comes the perfect dog, an English Springer Spaniel named Whistler who arrives not only the family pet, but as her private symbol of triumph over all that age–old sadness. She wants to ignore it but can't help but see that their perfect pup is something of a neurotic mess, snarling at manhole covers, barking at children, growling at people in wheelchairs.
The writer herself is not seemingly done with the anxieties born of all that early trauma and loss, and she begins to worry obsessively about losing this difficult dog, the one they so love.
Wrrrrnnnggdgggg!
she begins to dream.
Wrrrrrnnnnng dgggg!