Books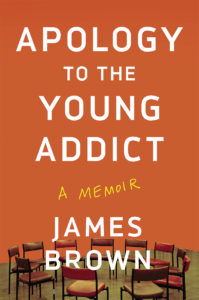 A Memoir
Husband, addict, father, skeptic. Now sixty—with years of sobriety under his belt—the celebrated author of The Los Angeles Diaries and This River returns with his most moving work yet.
Opening with the tragic tale of an elderly couple consumed by opioid addiction and moving through the horrors of a Las Vegas massacre to the loss of a beloved sponsor, these essays draw on Brown's personal journey to illustrate how an individual life, in all its messiness and charm, can offer a blueprint for healing. From writing about finding a new path in life while raising three sons, to making peace with the family whose ghosts have haunted him, and helping the next generation of addicts overcome their disease, this haunting and hopeful book is a reinvention of the recovery story and a lasting testimony from the master of the modern memoir.
"The third panel in Brown's masterwork triptych on addiction from youth to sixty, Apology to the Young Addict also accomplishes at last a staggeringly rare mercy—on the ghosts of memory, the ravages of disease, the brutal hypocrisies of religion, and finally—most shockingly—on himself." —Gina Frangello, author of Every Kind of Wanting and A Life in Men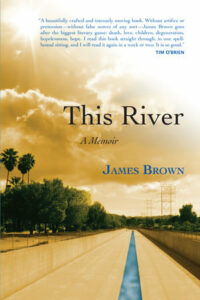 A Memoir
"Continues where Brown's first memoir, The Los Angeles Diaries, left off. It's molten stuff, the story of his efforts to control his river of rage." —Los Angeles Times
Award–winning author James Brown gained a cult following after chronicling his turbulent childhood and spiraling drug addiction in
The Los Angeles Diaries
.
This River
picks up where Brown left off in his first memoir, describing his tenuous relationship with sobriety, telling of agonizing relapses, and tracking his attempts to become a better father.
This is the heartbreaking and at times uplifting tale of Brown's battles, peeking into his former life as an addict and detailing his subsequent ascent to sobriety and fight for redemption.
"A beautifully crafted and intensely moving book. Without artifice or pretension—without false moves of any sort—James Brown goes after the biggest literary game: death, love, children, degeneration, hopelessness, hope. I read this book straight through, in one spellbound sitting, and I will read it again in a week or two. It is so good." —Tim O'Brien, National Book Award winning–author of
The Things They Carried
"Beautifully written, this is clear–eyed truth–telling by a man coming to terms with the best and worst in himself and others." —
Booklist
"
This River
pulls no punches—art shouldn't and Brown doesn't. The good, the bad, the ugly are all there in a lucid, uncluttered, muscular prose studded with honesty, willpower, and courage. Brown's is a story of a man who, against overwhelming odds, not only came back from the abyss, but triumphed." —Duff Brenna, author of AWP Best Novel
The Book of Mamie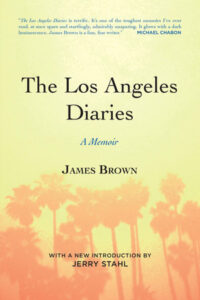 A Memoir
Plagued by the suicides of both his siblings, and heir to alcohol and drug abuse, divorce, and economic ruin, James Brown lived a life clouded by addiction, broken promises, and despair.
In
The Los Angeles Diaries
, he reveals his struggle for survival, mining his past to present the inspiring story of his redemption. Beautifully written and limned with dark humor, these twelve deeply confessional, interconnected chapters address personal failure, heartbreak, the trials of writing for Hollywood, and the life–shattering events that finally convinced Brown that he must "change or die."
In "Snapshot," Brown is five years old and recalls the night his mother "sets fire to an apartment building down the street." In "Daisy," Brown purchases a Vietnamese potbellied pig for his wife to atone for his sins, only to find the pig's bulk growing in direct proportion to the tensions in his marriage.
Harrowing and brutally honest,
The Los Angeles Diaries
is the chronicle of a man on a collision course with life, who ultimately finds the strength and courage to conquer his demons and believe once more.