Books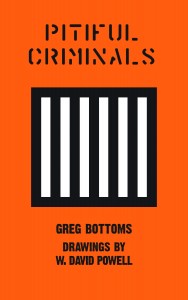 In
Pitiful Criminals
, Greg Bottoms offers thirteen genre–bending chapters from his past that take a close look at the lives of small–time criminals driven, often by confusion and desperation, to deeds that range from the absurd to the heinous. We meet the author's schizophrenic arsonist brother, a depressed pot grower, a damaged ex–dealer who barely escaped a violent burglary, a born–again teenage shooter, and other alienated Americans pushed to extremes by psychology and circumstance. Forceful, poetic, unique, and utterly uncompromising, it is an unforgettable tour of the dark side of the human condition.
Greg Bottoms's innovative fiction and creative nonfiction have focused on the American South, the effects of violence on individual lives, criminal behavior, mental illness, ecstatic and spiritual experience, and class in America. He blends explicitly autobiographical and biographical content with artful storytelling, a cultural journalist's observations, and a philosopher's deep inquiry into the strange ways we live now. This is postmodern crime fiction at its gritty and original best.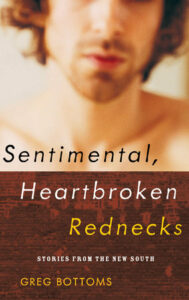 Stories from the New South
Provocatively blurring the lines between autobiography, short fiction, and essay, Greg Bottoms presents a series of fifteen honest and beautifully spare tales of class, poverty, violence, and racism set in the margins of the urban and suburban New South.
An ode to Pulitzer–nominee Breece D'J Pancake's life and untimely death, the title story deftly interweaves Bottoms's personal history to insightful result. In the transformative "The Metaphor," the narrator proclaims, "when the world looks like every little promise has been lanced and bled out, you need a story to tell yourself." So we move seamlessly between the lives of people both real and imagined and the life of the author, and what emerges is not only a composite of sharply drawn and revealing moments, but also a book–length meditation on the nature of, and necessity for, storytelling itself. Including three new stories — "Sam at the Gun Show," "Strangers and Dreams," and "Heroism #2" — this revised edition announces an understated, arresting new voice in literature.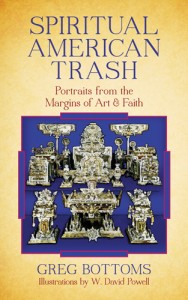 Portraits from the Margins of Art and Faith
In
Spiritual American Trash
, Greg Bottoms goes beyond the examination of eight "outsider artists" and inhabits the spirit of their work and stories in engaging vignettes. From the janitor who created a holy throne room out of scraps in a garage, to the lonely wartime mother who filled her home with driftwood replicas of Bible scenes, Bottoms illustrates the peculiar grace in madness.
Using facts as scaffolding he constructs intimate narratives around each artist, painting their poor and difficult circumstances on the outskirts of American society and demonstrating struggle's influence on their largely undiscovered art. Both mournful and celebratory, these profiles embrace these compulsive creators with empathy and visceral sensory details.
Each sentence reads with the cadence of a preacher who engages the art of the spirit and passion that often strays into obsession. Raised in the working–class South as a devout Christian with a deeply troubled brother, Bottoms understands how these eight outsiders "made art for a higher power and for themselves."