Books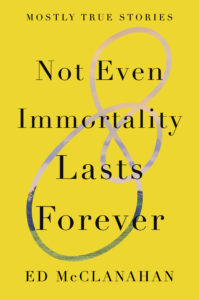 Mostly True Stories
McClanahan crafts his coming–of–age tales with comic wit and refreshing honesty, inviting readers to relive the memories that shaped his character and career—from hilarious childhood antics in small–town Kentucky to eye–opening adventures on the West Coast
A good story has a mind of its own; it seeks its truth the way water seeks its own level. But where is the line between memory and imagination, between nonfiction and the telling of a good story? In the mostly true stories that make up
Not Even Immortality Lasts Forever
, Ed McClanahan intrepidly tests the limits of that distinction.
This gathering of fiction–infused autobiographical stories opens in the postwar 1940s with the sudden, brief appearance of an itinerant street performer in McClanahan's sleepy rural Kentucky hometown, an elderly bicyclist whose artistry seems, to the fourteen–year–old narrator, almost divinely inspired. Subsequent stories trace McClanahan's uneasy but ultimately tender relationship with his no–nonsense ""bidnessman"" father and, simultaneously, his growing awareness of his own calling as a writer. McClanahan writes his way into the fabled Stanford University Creative Writing Program and forms lasting friendships with Ken Kesey and his then–notorious cohort, the Merry Pranksters.
After returning to Kentucky in the 1970s, McClanahan published his long–awaited novel,
The Natural Man
, in 1983, the first of seven well–received books. In 2019, he was inducted into the Kentucky Writers Hall of Fame.
"This may be Ed McClanahan's best book yet. Never again can I say that I don't laugh out loud—or walk around reciting to the closest human—while reading a book. This memoir belongs on the same shelf as Nordan's Boy with Loaded Gun and the works of David Sedaris. What a great, comical joyride by a large–hearted man." —GEORGE SINGLETON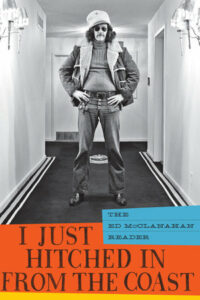 The Ed McClanahan Reader
This rollicking collection—personally selected by the author (in collaboration with his editor Tom Marksbury)—gathers the best of Ed McClanahan's work, making it a must–have for both long–time fans and newcomers alike. Comprised of fourteen works,
I Just Hitched in from the Coast
is an admixture of fiction and non–fiction, memoir and imagination. It includes such classics as "Fondelle, or: The Whore with a Heart of Gold," and the wry essay "The Day the Lampshades Breathed," chronicling McClanahan's time in the 1960s.
In "The Essentials of Western Civilization," McClanahan imagines the affairs of Assistant Professor Harrison B. Eastep, MA, of Arbuckle State in Oregon, and of the gradual erosion of his dedication to academia. Weaving together Vietnam, rock and roll, a lackluster counterculture past, and the Great Plague of London, this is storytelling at its best by a master of the craft.
The foremost stylist of the Yippie generation, McClanahan writes with bemused affection. He parlays his Southern sensibilities and California experiences with a mastery of language, to tantalize his readers with musings that are absurd, whimsical, outrageous, and, in the words of one reviewer, "wickedly sharp."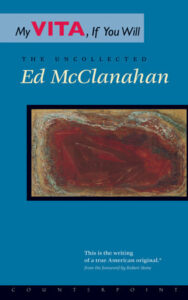 The Uncollected Ed McClanahan
If you don't know Ed McClanahan, this "anthology of his essays, reviews, short stories, and novel excerpts (from early drafts) ought to do the trick" (Booklist).
Highlighting the collection is "Grateful Dead I Have Known," a long prize-winning meditation about Jerry Garcia and the fanatical devotion of his fans. Also collected here for the first time are McClanahans's earliest short stories, along with book reviews, lost chapters of
The Natural Man
, and a substantial afterword to
Famous People I Have Known
. His recollections of famous friends and fellow travelers form an integral part of this book. He joins his buddy Ken Kesey in a bus-journey reunion with other gray-haired Merry Pranksters, and he pokes fun at his own graduate-school flamboyance in a touching remembrance of his mentor Wallace Stegner.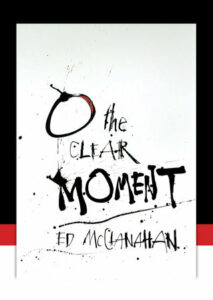 In this enormously appealing "implied autobiography," Merry Prankster Ed McClanahan has assembled a gathering of what he calls "coming–of–age to coming–of–old–age" stories that are both quirky and cutting, hilarious and lyrical, all told in the inimitable voice of one of his generation's best southern chroniclers of American life.
The tale begins in 1950, the year he turned 17 and, from there, McClanahan is off and running, describing characters from his eventful life with affectionate and precise detail. There's the summer he spends on a road crew in Yosemite National Park, striving (with ever–decreasing degrees of success) to be faithful to his college sweetheart back home. There's the McClanavan—the '68 VW Microbus that took McClanahan and his new bride on a 14,000–mile trek in search of honky–tonks. There's the 1969 "peace" demonstration at Stanford University that was less a revolution than a traffic jam. McClanahan and his stories come alive as American souvenirs, enchanting readers with his signature prose in this stunning piece of "memoirabilia."