Books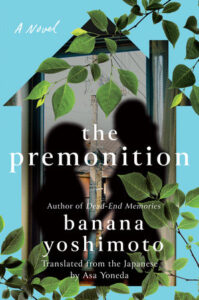 A Novel
The internationally beloved author of Kitchen and Dead-End Memories returns with a beautiful and heartfelt story of a young woman haunted by her childhood and the inescapable bitterness that inevitably comes from knowing the truth
Yayoi, a 19-year-old woman from a seemingly loving middle-class family, has lately been haunted by the feeling that she has forgotten something important from her childhood. Her premonition grows stronger day by day and, as if led by it, she decides to move in with her mysterious aunt, Yukino.
No one understands her aunt's unusual lifestyle. For as long as Yayoi can remember, Yukino has lived alone in an old gloomy single-family home, quietly, almost as though asleep. When she is not working, Yukino spends all day in her pajamas, clipping her nails and trimming her split ends. She eats only when she feels like it, and she often falls asleep lying on her side in the hallway. She sometimes wakes Yayoi at 2:00 a.m to be her drinking companion, sometimes serves flan in a huge mixing bowl for dinner, and watches
Friday the 13th
over and over to comfort herself. A child study desk, old stuffed animals—things Yukino wants to forget—are piled up in her backyard like a graveyard of her memories.
An instant bestseller in Japan when first published in 1988,
The Premonition
is finally available in English, translated by the celebrated Asa Yoneda.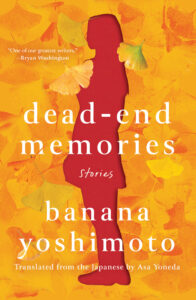 Stories
Japan's internationally celebrated master storyteller returns with five stories of women on their way to healing that vividly portrays the blissful moments and everyday sorrows that surround us in everyday lifeA New York Times Notable Book "This is a supremely hopeful book, one that feels important because it shows that happiness, while not always easy, is still a subject worthy of art." —Brandon Taylor, The New York Times Book Review
First published in Japan in 2003 and never before published in the United States,
Dead-End Memories
collects the stories of five women who, following sudden and painful events, quietly discover their ways back to recovery.
Among the women we meet in
Dead-End Memories
is one betrayed by her fiancé who finds a perfect refuge in an apartment above her uncle's bar while seeking the real meaning of happiness. In "House of Ghosts," the daughter of a yoshoku restaurant owner encounters the ghosts of a sweet elderly couple who haven't yet realized that they've been dead for years. In "Tomo-chan's Happiness," an office worker who is a victim of sexual assault finally catches sight of the hope of romance.
Yoshimoto's gentle, effortless prose reminds us that one true miracle can be as simple as having someone to share a meal with, and that happiness is always within us if only we take a moment to pause and reflect. Discover this collection of what Yoshimoto herself calls the "most precious work of my writing career."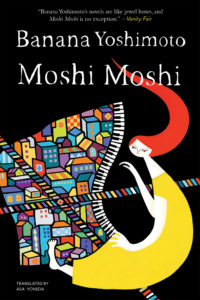 A Novel
"A beautiful translation . . . Yoshimoto deploys a magically Japanese light touch to emotionally and existentially tough subject matter: domestic disarray, loneliness, identity issues, lovesickness . . . [a] nimble narrative." ―ELLE
In
Moshi Moshi
, Yoshie's much–loved musician father has died in a suicide pact with an unknown woman. It is only when Yoshie and her mother move to Shimokitazawa, a traditional Tokyo neighborhood of narrow streets, quirky shops, and friendly residents that they can finally start to put their painful past behind them. However, despite their attempts to move forward, Yoshie is haunted by nightmares in which her father is looking for the phone he left behind on the day he died, or on which she is trying—unsuccessfully—to call him. Is her dead father trying to communicate a message to her through these dreams?
With the lightness of touch and surreal detachment that are the hallmarks of her writing, Banana Yoshimoto turns a potential tragedy into a poignant coming–of–age ghost story and a life–affirming homage to the healing powers of community, food, and family.