Books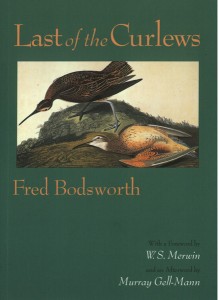 In this conservation classic, originally published more than sixty years ago, Fred Bodsworth tells the story of a solitary Eskimo curlew's perilous migration and search for a mate. The lone survivor comes to stand for the entirety of a species on the brink of extinction, and for all in nature that is endangered.
This new paperback edition includes a foreword by Pulitzer Prize–winning poet W.S. Merwin and an afterword by Nobel Prize–winning physicist Murray Gell–Mann.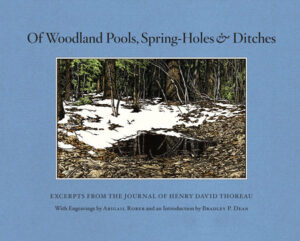 Excerpts from the Journal of Henry David Thoreau
Henry David Thoreau has long been revered for his writings and observations on the natural world. His words evoke his environment with stunning clarity as well as his own innate sense of wonder. His journal, from which the text of
Of Woodland Pools, Spring–Holes and Ditches
is drawn, shares these strengths, providing an intimate view of Thoreau's day–to–day existence.
The selected excerpts are pulled from the months of March, April, and May, and all pertain to what are now called vernal pools — temporary pools of water, free of fish, at their peak in the spring, and the breeding ground for numerous creatures.
In this volume, Thoreau's words are accompanied by 28 engravings by artist Abigail Rorer. The delicacy and detail of these engravings make them the perfect companion to Thoreau's words, adding another layer of beauty to his observations. Each engraving is a work of art in and of itself, enriched by the text and Thoreau's visionary descriptions. The engravings are based on the woods and vernal pools explored by Thoreau, lending them undeniable authenticity.
Thoreau once proclaimed, "I have an appointment with spring." Through his words and Rorer's art, so too does the reader.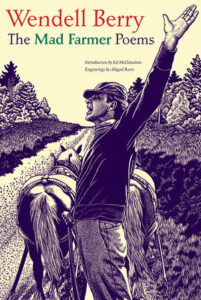 During the otherwise quiet course of his life as a poet, Wendell Berry has become "mad" at what contemporary society has made of its land, its communities, and its past. This anger reaches its peak in the poems of the Mad Farmer, an open–ended sequence he's found himself impelled to continue against his better instincts. These poems can take the shape of manifestos, meditations, insults, Whitmanic fits and ravings—these are often funny in spite of themselves. The Mad Farmer is a character as necessary, perhaps, as he is regrettable.
Here are gathered the individual poems from Berry's various collections to offer the teachings of this amazing American voice. After the great success of the lovely
Window Poems
, Bob Baris of the Press on Scroll Road returns to design and produce an edition illustrated with etchings by Abigail Rover. James Baker Hall and William Kloefkorn offer poems here that also show how the Mad Farmer has escaped into the work of others. The whole is a wonderful testimony to the power of anger and humor to bring even the most terrible consequences into a focus otherwise impossible to obtain.