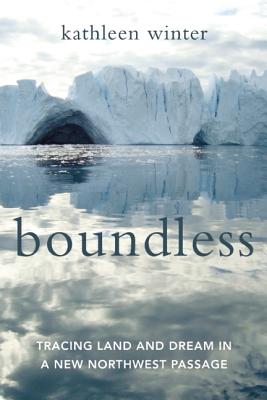 Alternet ran an excerpt from Kathleen Winter's book Boundless: Tracing Land and Dream in a New Northwest Passage, which chronicles her experience in crossing the Northwest Passage.
November 4, 2015
Crossing Northwest Passage: Deciphering the Strange, New Language of a Changing Arctic
We floated by Zodiac to icebergs gathering at the fjord mouth: caves, pillars, monumental and illumined with blue light, and darkness in the deep recesses—so enigmatic and imposing I said nothing for hours. Were it not for Sheena McGoogan, who'd begun translating what she saw into her sketchbooks and encouraged us to do the same, I might have come away from the whole experience unable to express a word about it. Only after two years of looking at the images I sketched, both in the book she gave me and on watercolour paper, have I been able to speak. I was finding, in the North, that words are a secondary language: first we see images, then we feel heat, cold rock, flesh. We taste air before words.
The first words I encountered in the North were made not through symbols but by rock, sky, and water — and, later, by the profound animals who possessed potent languages of their own. In the dramatic gallery of ice that cracked and floated off the Sermeq Kujalleq glacier into Disko Bay I began to perceive speech and language that proved other than human: to translate it I'd need to understand my own mind and body in a new way. This would take coaxing and tutoring by the land we were to travel, and because I'd been conditioned toward reason, to linear and compartmental thought built by explanation and deduction, it would take time.
I was far from the first human to lose my bearings here. Historians call Disko Bay the last place John Franklin was seen by European eyes. Witnesses claimed they saw him with his ship moored to an ancestral cousin of the icebergs we were encountering; once Franklin sailed from Disko Bay, no one from that part of earth ever saw him again. I felt, on seeing the icebergs, how one might easily vanish after being in their presence. The idea of mooring one's ship to the ice had a ring of sad folly: had Franklin trusted the ice because of its mass and presence, even though it was made of frozen water and insubstantial as a dream? I tried to picture his ship moored to the ice and felt nothing but surprise at the prospect: both ice and ship seemed destined for dissolution. Might Franklin have sensed this at the outset?
Back on the ship we headed up Karrat Fjord, home to narwhals and seals and colonies of dovekies. We were to go ashore on an uninhabited island, and I saw we were entering a new psychological zone, a hybrid between the urban life we all knew and another, less knowable life ahead. Passengers tried to conjure memories of wilderness hiding within the cities we'd left behind. Surely we knew something about wilderness, about animals? The birders talked with Richard Knapton, the ship's ornithologist, about birds common to both Greenland and their own homes in the south.
"A peregrine falcon," a passenger said, "lives at 2180 Yonge Street in Toronto, on the corner of Yonge and Eglinton. It sits high on the Canadian Tire building, hunts from there, brings prey, and in full view of everyone in the offices, tears it to pieces. Blood everywhere."
"Ravens in Greenland," Richard answered, "will assess the length of a sled dog's chain, then sit just outside of it."
I'd seen those ravens coexisting here with chained huskies. I'd sensed the dogs' haunted spirits cloaking the settlements in resounding howls over the gardens and graveyards. Those dogs tore prey to pieces as well as any peregrine falcon could.
But the land on which we were now about to walk had no dogs and no living humans. There would be human bones, though. The land knew how to devour its share of blood and bone, more ravenous than peregrine or dog.
"Be aware," said Aaron, the young New Zealander who would lead us on our first walk far from any settlement, "that out on the land there are human remains. Respect them, and be aware of the boundary. Notice where the gunbearers are standing. Whatever you do, don't go beyond the gun perimeter."
He sent scouts ashore to establish sightlines and safe hiking places. Aaju and others readied their guns in case we met polar bears.
Marc St-Onge talked of the rocks we were about to walk on as if they were agents of action instead of the stationary lumps I witnessed in the distance. As we approached the rocky island I noticed him getting even more excited than usual.
"The rocks here" — he gesticulated as if at entities that hurtled and tore through space-time — "are all about the collision and suturing of continents."
Marc saw movement where I did not; it amused me, yet I sensed he was trying to transmit a message I couldn't intercept. Rocks, to Marc, were far more powerful than they appeared to me. It wasn't that I doubted Marc's view — but I lacked his perception and could not hear or decipher anything the rocks might be trying to say. I didn't want to even try to hear their language. I was more interested in the ice, water, air, and myriad tiny lichen. On other voyages this ship had brought a botanist along, but we did not have one. I spent a lot of time with my face close to the ground, listening not to Marc's stones, but to the eloquence of diminutive plants. I found their voices exquisite and brave.
We clambered onto a rise where black and orange lichen blazed in perfect circles on the rocks. There were, indeed, human bones, not buried in southern fashion where there is soft ground, but ritualistically lain under cairns of stone that we had to be careful not to disturb. It would have been easy to walk on one if you were negligent, and send rock and fibula and skull tumbling disastrously down the embankment, disturbing spirits. I climbed high over a carpet of tight green moss and minute leaves, and I sprawled on a sun-warmed blanket of turf from where I watched tantalizing icebergs float in the distance, breaking off into smaller and smaller pieces that floated then melted in the water with a fluid serenity. I was elated to have a vantage point no other passenger had found, though it meant I lay near the bones of a long-dead hunter reclining under a stone mound.
I lay alongside those bones on top of the stony ridge, listening to the soundscape. On our ship our captain once again fished from his deck, a distant figure raising and lowering his single line while around him roared a crashing boom as icebergs cracked and avalanched. The fjord acted as an orchestral chamber, magnifying the sounds of these ice monoliths as they crushed and worked. It sounded like a vast construction site. There was a gunshot crack, then a thump and another avalanche; layered under these were the lapping of water, the echoing roar of wind around the moonscape mountains, and other, more distant collisions of ice echoing down the fjord. I climbed higher and found a rock shelf. I sat on the ledge in one place for a long time, alone and listening.