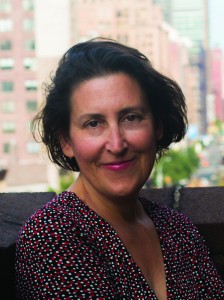 Karen E. Bender is the author of Refund: Stories, which was shortlisted for the 2015 National Book Award for Fiction. We ask her about her favorite books, writers, and making the shortlist.
Where were you when you found out about the National Book Award shortlist? How do you plan on celebrating?
I was at home when I got a call from the director of the National Book Award on Tuesday saying I had been shortlisted. I shrieked so loudly, my husband ran upstairs and we started jumping around, screaming. Every minute now feels like a celebration, to be honest.
And where were you when you first heard the news about being on the longlist? How did you react?
I was in Virginia, teaching at Hollins University, when I heard the news. It was 9 am and I knew the National Book Award was announcing the longlist, and I was kind of curious who was on it. So I clicked on the site and saw the cover of Refund, that shimmering gold. I actually thought I had gone insane for a moment; I called my husband Robert and said, "I think Refund's on the longlist—is it real?" and he said, "Yes, it's real!" I started laughing, a bolt of pure joy.
What are you reading right now? 
My Brilliant Friend by Elena Ferrante, which I'm reading with my tutorial group at Hollins. It captures the complexity of young women and ambition and connection with such depth and beauty. Recently finished Young Skins by Colin Barrett, which are just amazing short stories.
What's the one book that you recommend to people, over and over?
It changes, depending on what book I have fallen in love with at that moment. The Collected Stories of John Cheever is a book that I so often recommend; his images illuminate the world in a way I haven't seen until he has shown me. And recently, I tell people they must read Bobcat, the stunning story collection by Rebecca Lee.
Who are some of your writer mentors? Do you find that's changed over time as you evolve as a writer or do they remain the same?
So many writers have shaped me at various points of my writing life. My work is often trying to converse with the works of these authors: Philip Roth, JD Salinger, Flannery O'Connor, Joy Williams, Lorrie Moore, John Cheever, James Baldwin, Cynthia Ozick, Grace Paley, Stanley Elkin, Jamaica Kincaid, Carson McCullers, Paula Fox, Junot Diaz.
What is your most prized book possession? A first edition? A gift? Please describe. 
I don't know if I have a prized book possession; my books are all important for what they taught me, the sentences and characters and stories that carved into me, really formed me. But I do feel warmly about the copy of The Catcher in the Rye that I read when I was in high school—it was the first book that made me cry.